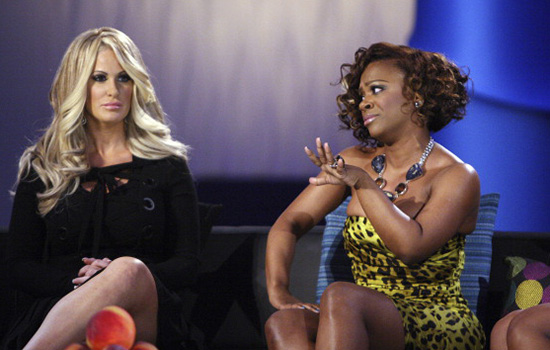 Well, it was bound to happen at some point. According to TooFab, Kandi Buruss, who joined the hit Bravo reality TV series "Real Housewives of Atlanta" back in 2009, is finally suing her former friend Kim Zolciak for unpaid dues related to their collaboration on Kim's debut single "Tardy for the Party."
The move, while somewhat predictable, is a little bit of a surprise since Kandi has repeatedly said that although she felt Kim gypped her, she didn't have interest in dragging the case out in court.
Guess Kandi started feeling differently when she heard Bravo use the song as the theme song for Kim's spinoff show, "Don't Be Tardy" as the lawsuit specifically deals with illegal "licensing" of the track.
Kandi claims Kim infringed upon her copyright by unlawfully licensing, distributing and selling the song, which she wrote and Kim "sang" on.
Kim claims that Kandi is desperate for attention and that the lawsuit is a pathetic ploy for attention and press coverage.
In an exclusive statement to toofab, Kim says, "This is nothing short of a publicity stunt, I find this lawsuit funny yet sad. Coming after me now and this song is 4 years old? I have in fact overpaid Kandi and have documents to prove it and my legal team will handle this accordingly."
Truth be told, on Kandi's end, waiting four years to pass before pursuing any legal action wasn't very smart. And now, because she waited, she looks like a slick opportunist while Kim actually comes off looking like the victim. And the victim is definitely one of Kim's favorite roles to assume.
But here's the kicker, according to TooFab's report, Kandi is being represented in the suit by none other than Mrs. Phaedra Parks.
WTF? Didn't Kandi see how Phae-Phae quickly went into a tailspin when she was hired to represent Sheree last season?
Guess the girls will have plenty to talk about during this year's "RHOA" reunion.
Be the first to receive breaking news alerts and more stories like this by subscribing to our mailing list.