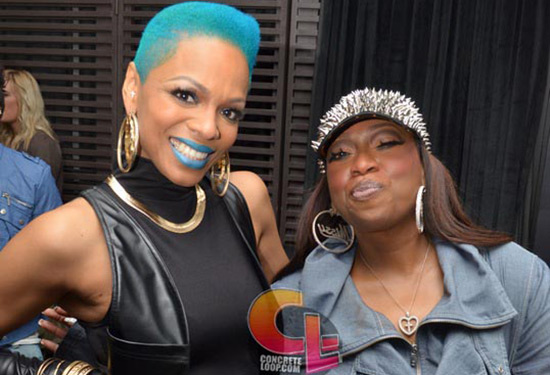 Besides working on her own music, Missy Elliott has a new artist under her wing, and she goes by the name of Sharaya J.
A native Hawaiian raised in New Jersey, Sharaya has always been an artist at heart.
She was exposed to music early by her father, who was a member of 90's Hip Hop group Double XX Posse, and has always been a natural performer.
According to Sharaya J she looks up to superstars like TLC, Aaliyah, Biggie, Wu-Tang Clan, Mary J. Blige, Janet Jackson and more.
She's gotten a lot of recognition in the dance industry, working with the likes of Diddy, Rihanna, Alicia Keys as well as great choreographers like Laurianne Gibson, Fatima Robinson and Jamaica Craft, so Sharaya is no stranger to the spotlight.
Now as Missy "Misdemeanor" Elliott's new recording artist, she has a fresh new sound and a style inspired by true Hip Hop and underground dance music.
Her "Banji Movement" encourages people, and artists like herself, to embrace uniqueness and originality. The acronym BANJI stands for Be Authentic Never Jeopardize Individuality
Considering her background and love for dance, Sharaya says, "I just wanna make fun music! Dance is my root, so my goal is to get the people dancin' again!!!"
Are you down with the Banji Movement? With this chick's bright blue haircut, and brightly colored lipstick, as she likes to trademark herself, she might be a new face with fashion sense the game will have to get use to.
We all know Missy is one of the most eccentric people in the business, and this chick Sharaya J fits right in with that.
WATCH SHARAYA J'S "BANJI" VIDEO HERE:
[H/T: Concrete Loop]
Be the first to receive breaking news alerts and more stories like this by subscribing to our mailing list.