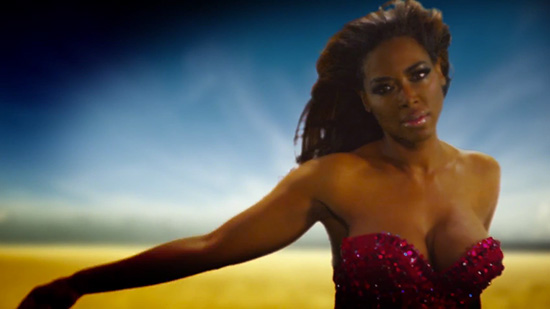 You can think a lot of things about Kenya Moore but know this: She's one calculating bitch who knows how to make lemonade out of lemons.
The breakout star from "Real Housewives of Atlanta" is not letting a single moment in the spotlight go to waste. After a 'spectacular' performance of her single "Gone With the Wind Fabulous" on Bravo's "Watch What Happens Live" show, Kenya has returned with an official video for her drag queen-inspired dance anthem.
But this video, which clocks in over 5 minutes (Bitch, this ain't "Thriller" now…), gives Kenya an opportunity to take her detractors from RHOA down a peg or two.
She starts off with Porsha, as she has drag queen Shangela reprise their fight in Anguilla. As "Porsha" runs her mouth, Kenya's twirl powers pump up and before you know it, Kenya spins the messy drag queen's ass into the pool. Boom, boom, pow!
After that, Kenya sits in church listening to Sunday Service when a large woman with sagging breasts and an inappropriate fishnet bathing suit marches through the doors. This large woman is supposed to be Phaedra. Now, while the Porsha mock was spot-on, this one is off because the light-skinned woman Kenya got to play Phaedra looks nothing like her. So the connection isn't as clear.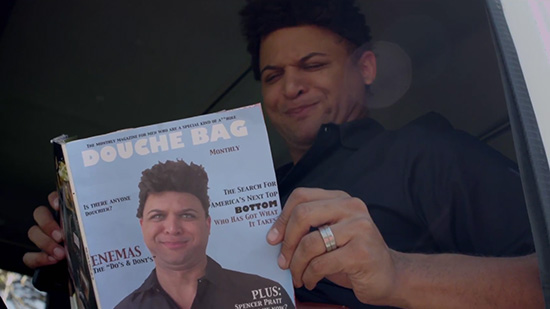 But the final set-up for the video brutally depicts Kenya's ex-boyfriend as a down-low, flaming homosexual man. She mocks his penis size (the name of his tow truck company has been changed to "Lil' Dicks Towing") and infers that he's a homosexual by having him dressed in a half-shirt and reading "douche bag" magazine with articles about enemas and "America's Next Top Bottom." Ouch.
But it's not as if Kenya only takes shots at her enemies. She makes fun of herself too, imagining herself as "Keyonce," awkwardly performing Beyonce's "Single Ladies" routine.
Watch the video for Kenya's "Gone With the Wind Fabulous" below:
Be the first to receive breaking news alerts and more stories like this by subscribing to our mailing list.