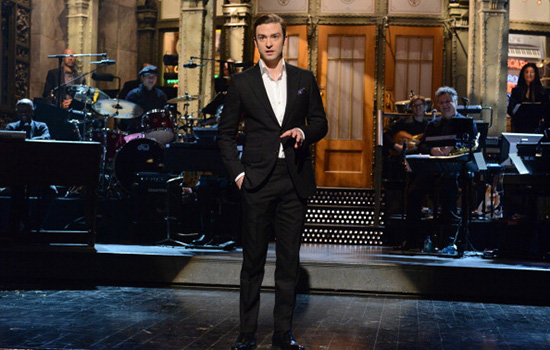 Justin Timberlake hosted  "Saturday Night Live" for the fifth time this weekend and overall, it was … disappointing.
Though notable TV critics are praising the episode, it failed to live up to it's expectations–something Timberlake hinted would happen in his opening monologue.
Much of the problem lies in that the former NSYNC member hosted a near-flawless episode in 2011 that was pretty much impossible to top. In fact, up until this weekend, all of JT's outings as host have been an absolute riot.
From the time he first took the SNL stage in 2003, the "Suit & Tie"  singer has been a part of some of the most memorable SNL skits of all time. Who could forget "Dick in a Box" or the recurring "Barry Gibb Talk Show?"
But Saturday's episode didn't really have any notable sketches that were on par with the ones that came before it.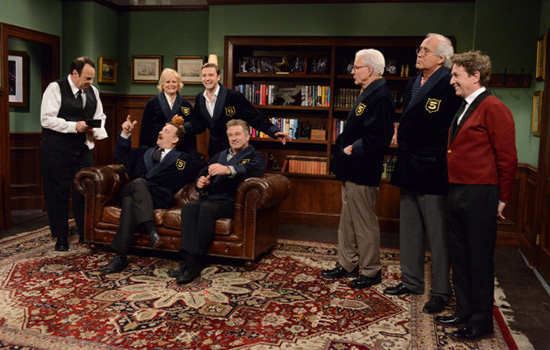 The cameo filled opening monologue — in which the 32-year-old was inducted into the five-timers club — was one of the best moments of the night.
Though the timing was questionable, who could deny the appeal of seeing the Paul Simon, Steve Martin, Dan Akroyd, Martin Short, Alec Baldwin, Tom Hanks, Chevy Chase, and Candice Bergen together.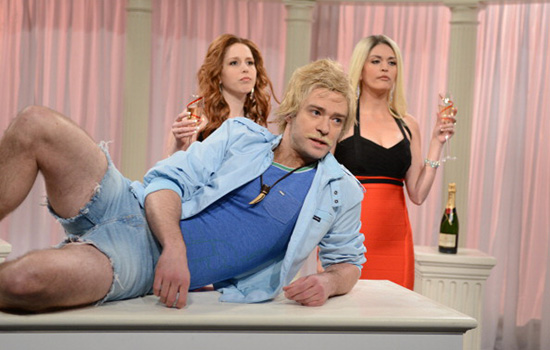 Other highlights included a hilariously inappropriate ad for Moet & Chandon champagne.
But moments like a trailer for a faux movie called, "She's Got A D!ck" and the largely unfunny "Maine Justice" fell short.
It can also be said that "Veganville," one of the star's many mascot sketches, though a major crowd pleaser, has been recycled one too many times.
Overall though, Timberlake gave a high energy performance that proved to be one of this season's highlights … though some would argue that doesn't mean much.
WATCH JUSTIN TIMBERLAKE'S SNL SKITS BELOW:
PREVIOUSLY: Justin Timberlake Takes a Jab at Kanye West on SNL
Be the first to receive breaking news alerts and more stories like this by subscribing to our mailing list.