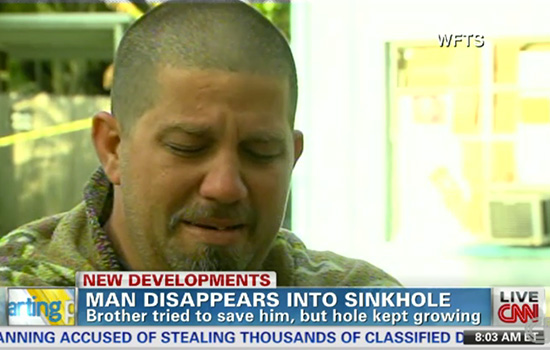 A man in Florida was killed after his entire bedroom was swallowed by a massive sinkhole under his house while he slept. Comparable to something straight out of a science fiction movie, 37-year-old Jeff Bush's entire bedroom collapsed into the ground, swallowing everything inside, including Bush.
"About the only thing left was the TV cable running down into the hole," a report from the Associated Press read, painting a gruesome picture of the tragic incident in which Bush was presumed dead.
According to AP:
The sinkhole, estimated at 20 feet across and 20 feet deep, caused the home's concrete floor to cave in around 11 p.m. Thursday as everyone in the Tampa-area house was turning in for the night. It gave way with a loud crash that sounded like a car hitting the house and brought Bush's brother running.

Jeremy Bush said he jumped into the hole but couldn't see his brother and had to be rescued himself by a sheriff's deputy who reached out and pulled him to safety as the ground crumbled around him.

"The floor was still giving in and the dirt was still going down, but I didn't care. I wanted to save my brother," Jeremy Bush said through tears Friday in a neighbor's yard. "But I just couldn't do nothing."

He added: "I could swear I heard him hollering my name to help him."

Officials lowered equipment into the sinkhole and saw no signs of life, said Hillsborough County Fire Rescue spokeswoman Jessica Damico.

A dresser and the TV set had vanished down the hole, along with most of Bush's bed.

"All I could see was the cable wire running from the TV going down into the hole. I saw a corner of the bed and a corner of the box spring and the frame of the bed," Jeremy Bush said.
Six people were reportedly at the home at the time, including the victim's brother Jeremy Bush's wife and their 2-year-old daughter. Bush said someone checked for sinkholes a few months back, but they said nothing was wrong.
"He said there was nothing wrong with the house. Nothing. And a couple of months later, my brother dies. In a sinkhole," Bush said.
WATCH A VIDEO REPORT FROM CNN HERE:
Be the first to receive breaking news alerts and more stories like this by subscribing to our mailing list.