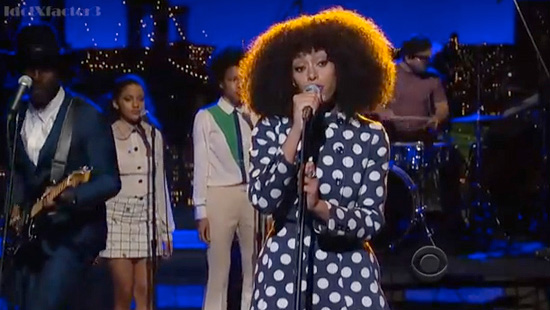 One of the benefits of being Beyonce's little sister is that you can book gigs and make relationships based on your status as a sibling to Queen Bey. The downside, however, is that few people will ever see you as anything but as a lesser version of Beyonce.
That is, unless you're able to transcend the sibling comparisons like Janet Jackson did with her brother Michael. LaToya, however, was not so lucky.
Anyway, all of that is to say that Solange is a true talent in her own right who deserves to shine. Not because she's kin to Beyonce but because she's genuinely awesome.
Some might find Solange to be sickeningly hipster, but deal with it. Yes, Solange loves her a thrift store garment, an afro wig and some obscure-ass white folks, but it works for her. Though we do have to admit that we could do without the annoying prententious single and album covers that don't have a title or photo on them. Just one.frickin'.solid.color.
But Solange's big-time break might have finally arrived. Her lead single, "Losing You," did quite well on YouTube, garnering over 5 million views on YouTube. Definitely not bad for an indie artist.
Her hipster magic worked its voodoo on David Letterman when she stopped by to perform on his show. After she performed her stunning single, "Don't Let Me Down," Letterman quipped that the two should go on tour together. Nice try, but no.
WATCH SOLANGE'S PERFORMANCES ON LETTERMAN BELOW:
Be the first to receive breaking news alerts and more stories like this by subscribing to our mailing list.