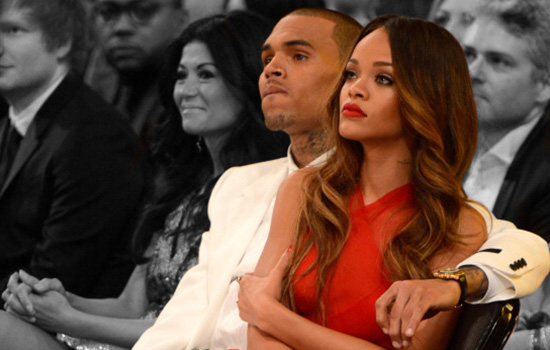 Chris Brown and Rihanna are now back together, but it has been a long road for the on-again, off-again (then back on-again, then back off-again, then back on-again) couple.
Back in 2009, Brown and Rihanna attended Clive Davis' pre-Grammy party and what famously ensued afterwards sent the couple's relationship into a media frenzy.
Brown and Rihanna got into an argument that resulted in him assaulting her, and he was arrested and charged with felony assault and making criminal threats. He was later sentenced to five years probation, one year of domestic violence counseling, six months of community service and was ordered to stay away from Rihanna. The order of protection was of course eventually lifted.
Rihanna spoke to Oprah last year about the incident and getting back with Brown, but he has remained tight lipped about it until now.
"Sometimes you row, you fight, with the one you love and things get said, stuff spirals," Brown said in a recent interview with the UK's Mirror. "That night was the deepest regret of my life, the biggest mistake."
Brown also opened up for the first time since the couple got back together.
"[It took] serious making up," he continued. "But she loves me – what can I say? I'm forgiven… but, yes, I worked hard for it."
He also commented on a joke that Seth MacFarlane made about him at the Oscars.
"People attack me and criticize me, it happens all the time," he said. "But they don't know me, and they don't know us. It doesn't bother me any more. Other people can judge us but they don't know anything."
In the end, Brown said he has grown and learned what he has taken for granted.
"I've learned a lot since that night and I've grown up. I was very young and I took a lot of stuff, fame, for granted," Brown said. "I didn't understand it. The support from those who do know me and the fans, who are incredible, got me through."
[Mirror]
Be the first to receive breaking news alerts and more stories like this by subscribing to our mailing list.