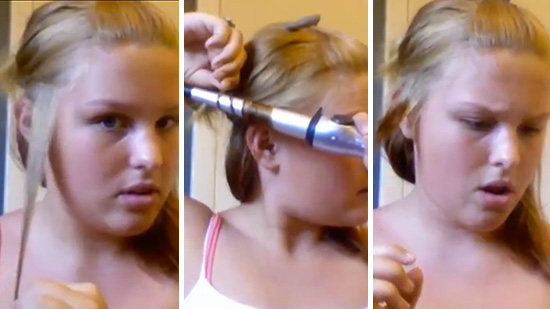 YouTube is filled with countless Beauty Gurus and many of them have deservedly earned a devoted following. Others, however, give laughable advice. Case in point, a tween by the name of Tori Locklear.
The cutesy blonde recently posted an instructional video that goes awry. In it, she uses a curling iron on a small potion of of her hair and a short moment later, it burns completely off.
Utterly shocked, she has a look of horror on her face once she realizes what has happened.
While thicker hair can withstand the heat longer, Locklear's main mistake was leaving the dangerously hot curling iron on her hair for over 20 seconds when it should only be used on thin hair (like hers) for just 5 to 10 seconds at a time.
The chemicals in the product Split Remedy may have also played a part in weakening the hair as it may have been flammable.
It's unclear why she decided to go ahead and post the video anyway, but at least young girls will be able to watch it and learn how to avoid frying their hair until it falls out.
The video, titled "Burning My Hair Off — ORIGINAL VIDEO — (Hair Tutorial Gone Wrong)" currently has close to 3 million views.
While many have chosen to post insults in the comments section below the video, it seems many women find Locklear's decision to post it refreshing.
"You are the coolest chick to post that. Had to be awful for you, but soooo funny for us! You rock," wrote one user.
Another wrote, "Good on you Tori for seeing the funny side of that & being brave enough to put it online. I probably would have been hysterical if that had happened to me,lol. But thank-you for making me laugh a lot today! ;)"
Be the first to receive breaking news alerts and more stories like this by subscribing to our mailing list.