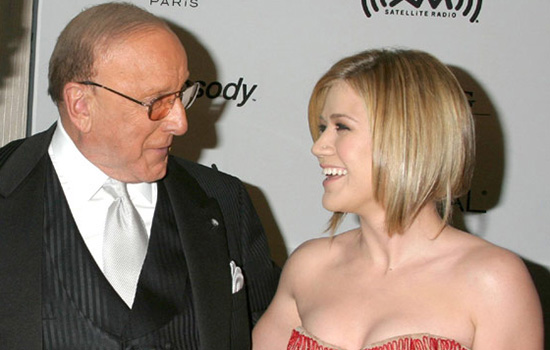 Music mogul Clive Davis has responded to Kelly Clarkson's criticism of his new memoir, and her accusations that he is a liar, and that he "bullied" her, "belittled" her music and called her a "shitty writer."
In his new book "The Soundtrack of My Life," Davis wrote about how difficult Clarkson was to work with at the beginning of the career and how "emotional" she was at times.

Music Mogul Clive Davis Reveals He's Bisexual
He recalled an alleged incident when she burst into tears after he demanded that "Since U Been Gone" would be included on her second album. The song was included on the project and went on to become a smash hit for Clarkson.

Kelly Clarkson to Clive Davis: Stop Spreading Lies About Me and My Music!
Once Kelly caught wind of her former mentor's recollections of her in his autobiography, she immediately fired back with a long winded response, accusing the legendary music mogul of "bullying" and "violating" her.
"I refuse to be bullied and I just have to clear up his memory lapses and misinformation for myself and for my fans," the singer/songwriter wrote in a message posted to WhoSay Tuesday (Feb 19). "It feels like a violation. Growing up is awesome because you learn you don't have to cower to anyone – even Clive Davis,"
Clarkson also accused Davis of mixing up his stories and not having his facts straight. But of course Clive Davis was having none of that, so the 80-year-old posted his own retort on Twitter:
As anyone who has read "The Soundtrack of My Life" knows, I think Kelly Clarkson is a tremendous vocal talent and performer. In the book, I provide an in-depth look at our years together during which we shared major multi-platinum success, as well as a few creative differences. I am truly very sorry that she has decided to take issue with what I know to be an accurate depiction of our time together.

Before the book was published, I had every fact checked with five independent individuals who were present on a daily basis throughout it all. The chapter as it is written was thoroughly verified by each and every one of them. I stand by the chapter as written in my book. At the same time I wish, and will always wish, Kelly's talent and her career to soar to ever new heights.

– Clive Davis
Now that we've heard both sides of the story, we've gotta ask…
Be the first to receive breaking news alerts and more stories like this by subscribing to our mailing list.