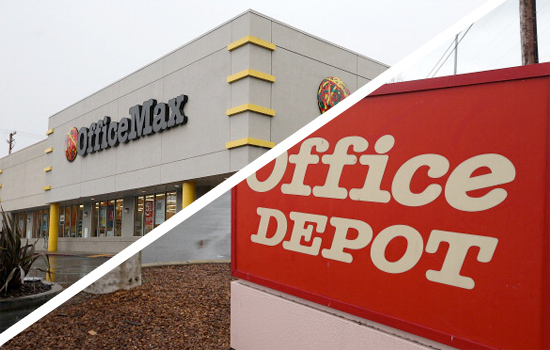 Office Depot has reportedly agreed to buy Office Max in an all-stock deal that will value the newly merged company at about $1.2 billion. The news comes just one day following reports that the two competing office supply stores were in talks to team up against Staples — the No. 1 U.S.-based big box office supply chain.
According to a report from the Associated Press:
Boca Raton, Fla.-based Office Depot Inc. and Naperville, Ill.-based OfficeMax said holders of OfficeMax shares will receive 2.69 shares of Office Depot for every OfficeMax share they own.

That's equal to about $13.50 per share, based on Office Depot's $5.02 per share closing price Tuesday, giving the deal a total value of about $1.2 billion.

OfficeMax had about 86.7 million shares outstanding as of Oct. 26, according to SEC filings. It is a 3.8 percent premium to OfficeMax's closing price of $13 on Tuesday and a 26 percent premium to OfficeMax's closing price on Friday, before word of negotiations leaked out.
OfficeMax said in a statement that the new deal "will create a stronger, more efficient global provider better able to compete in the rapidly changing office solutions industry," and "customers will benefit from enhanced offerings across multiple distribution channels and geographies."
Think "Sirius XM" — the merging of Sirius and XM satellite radio stations.
Consolidating both Office Depot Inc. and OfficeMax Inc. into one single company would mean at least $18 billion in revenue for 2012, compared to the $25 billion Staples brought in last year.
The merger between the companies is also pretty ironic too, considering most people probably didn't realize that Office Depot and OfficeMax were two different stores.
The name of the new company, as well as the location of the new corporate headquarters will be determined after a CEO is officially named.
Be the first to receive breaking news alerts and more stories like this by subscribing to our mailing list.