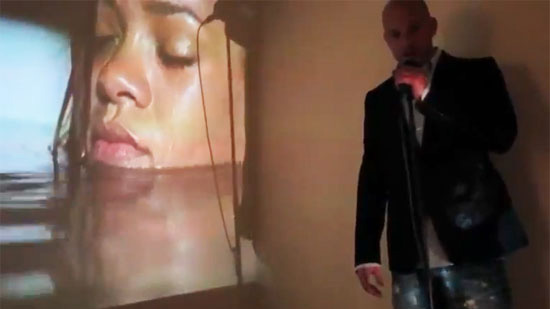 We don't know what Vin Diesel is going through, but it must be some serious heartache if he's willing to embarrass himself on the world wide web, mumbling and moaning his way through a cover of Rihanna's "Stay." Rihanna said she found love in a "hopeless place," but it looks like all Vin Diesel found there was a projector and a karaoke mic.
The "Fast & Furious" actor posted the strange Rihanna cover on his Facebook page on Valentine's Day and dedicated it to his "amore" repeatedly. We don't who his "amore" is, but we think she (or he??) might find this video to be more of a Halloween gag than a romantic gesture.
Our favorite parts of Vin's wacky serenade? When he raised the pitch in his voice for the man's part and those dreadful runs he tried to pull off at the end in an attempt to harmonize with Rihanna.
As awful as Vin was, we wouldn't be surprised if someone auto-tuned this and landed Vin his first iTunes hit. If Kim Zolciak can do it, anybody can.
Be the first to receive breaking news alerts and more stories like this by subscribing to our mailing list.