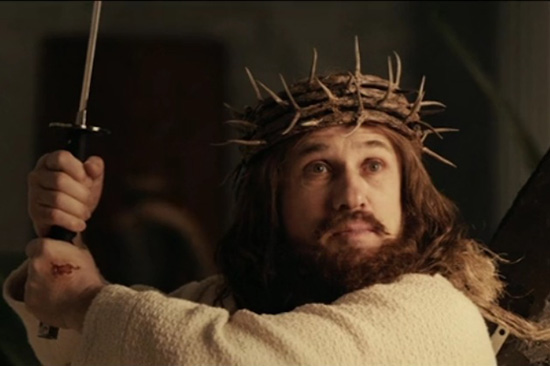 Quentin Tarantino has carried out cinematic revenge against Hitler and Mississippi slave owners, so many are wondering who he'll go after in his next movie. According to this weekend's episode of "Saturday Night Live," the Oscar-winning auteur is set to release "Djesus Uncrossed," a gory thriller in which Jesus seeks vengence against his executors.
The hilarious parody shows Jesus (played by this week's host and Tarantino muse Christoph Waltz) rising from the dead and slaughtering those that seek to destroy or persecute him.
The mock trailer was clearly inspired by "Inglorious Basterds" and "Django Unchained." It also pokes fun of Samuel L. Jackson, Brad Pitt, and Ving Rhames.
Though the segement is bound to anger a few Christian groups, it really would make for an excellent Tarantino film!
Waltz is currently up for an Oscar for his role as a quick-tongued German bounty hunter in "Django." The Austrian-born actor took home the award in 2010 for his role as a sociopathic Nazi in "Inglorious Basterds."
Be the first to receive breaking news alerts and more stories like this by subscribing to our mailing list.