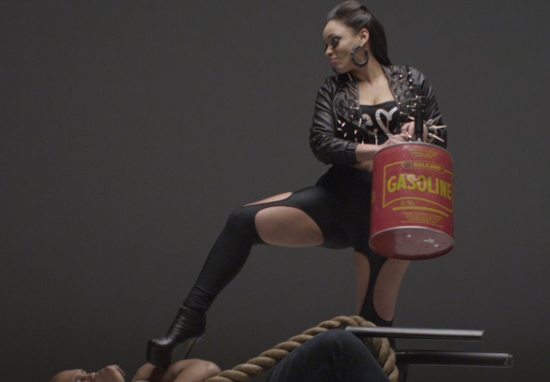 The stormy "friendship" between exes Joe Budden and Tahiry has left many scratching their heads on "Love & Hip Hop" but even more confusing is Tahiry's decision to embark on a music career. It seems like she just randomly rolled out of bed one day and decided to head in the studio to see what would happen.
So she came up with this "Devil" song in which Tahiry complains about letting a bad man back into her life knowing things will never change.
To say that Tahiry is 'singing' on the track would be a disservice to the craft. She pretty much talks her way through the song. And even that requires nuclear levels of auto-tune to sound somewhat musical. Tahiry makes Nicki Minaj sound like Whitney Houston. For real.
It's pathetic. And it's even sadder because the production on the track is top notch and she roped in actual vocal talent in the form of Shannon Jones to carry the song.
These reality chicks have got to leave the music industry alone, cause they're pummeling us with hot garbage.
Listen to Tahiry's debut single below.
Be the first to receive breaking news alerts and more stories like this by subscribing to our mailing list.