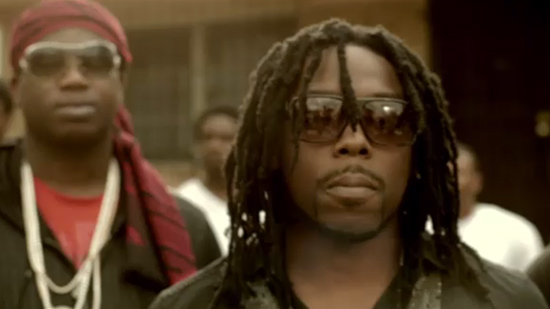 Rapping about making and selling drugs is nothing new, but Atlanta rapper Young Scooter has a whole entire song where all he talks about is how quickly he can make and sell cocaine in mass quantities, thanks to the teachings of his plug (slang word for someone who hooks you up with good drugs) in the Colombian drug cartel. And the clubs love it!
If you've paid a visit to ANY urban club in the Dirty South — especially ATL — within the past few months, you've probably DEFINITELY heard these two lines repeated over and over:
I can make co-caine

I just fell in love with a Cuban

I just left Colombia

Now we get them in by the metric ton
The beat is infectious, the hook (above) is catchy, and overall, the song is pretty popular among the underground Hip Hop scene. So popular, in fact, that Young Scooter scored a record deal last year through Gucci Mane's BrickSquad 1017 label.
But not everyone is a fan of the less than 3 minute song and its accompanying music video, which premiered on MTV Thursday (Jan 31).
As a matter of fact, a quick trip to the comments section on popular Hip Hop sites like WorldStarHipHop, Rap Radar, etc. will show an array of comments like these (sic where needed, and smh at some of those user handles):
epinz (Rap Radar): The cartels dnt fuck with black dudes. And if they do, u gotta come stringer bell frank lucas correct. No stars tatted om your head or ice cream cones
Willie Hozay (RR): Does anyone actually believe this nigga dude lives in fantasy land talking about selling metric tons and I was on the floor when he was like "done made a whole 2.5 off cocaine in 12 months, i have whole year runs, freeband meetings in puerto rico with hector, me and isabella. lol wtf
Truth (RR): I'm being dead serious right now…Is this nikkuhhh serious??? HOLY FUCK MANNNNNN! Stop with this retarded shit man. Jesus this is played out…FACKKKK!

FACT: Drug dealers don't shoot videos…Stop it….stop.
Deerawz (RR): Besides the song being boring and lyrically wack its also a form of snitching on yourself not only are you saying you flying metric tons you showing all the people your with and there faces, rappers wonder why they get pulled over, your song just explained your whole "Drug dealings"
pentopaper (RR): It's guys like this that mess things up for real hustlers that have to hustle cause it's not a fad, it's all they got! this is embarrassing….and let's me know that these rappers are more entertainers than real dudes. even if you stopped hustling you know not to f it up for dudes that are…and that's what he's doing ! embarrassing…
He Hate Me (WorldStarHipHop): LMAO they would kidnap and hold this cocolo hostage if he goes to colombia with all that jewlry.
Jesus Reds (WSHH): man im colombian n im out here rite now. this nigga cant be bout tha life here, bet he aint even know what colombia is or look like. respect for gucci n shit cuz they hood. but this scooter nigga shouldnt gott'n this out
ImaFoolBoy (WSHH): Colombia my ass…they shot this video in Miami lol
The video basically shows Scooter as he hops on a private jet and flies to Colombia (pronounced ColUmbia — like the capital of South Carolina — throughout the song), where he falls in love with a bad bitch, and handles his business.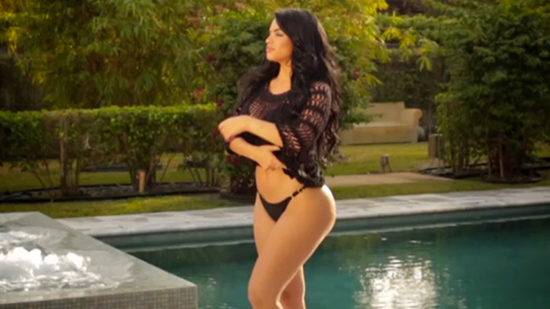 But no one really gives two wet farts about Young Scooter or his ability sell several metric tons (1,000 kilos) of cocaine. All anyone really cares about is the thick, beautiful Cuban(?) woman in the video!
DatBoiRoy (WSHH): This my 3rd time watchin cuz of that bitch… fuck it I just fell on love with a Cuban too
TheNeighborHoodC00NWatch (WSHH): DAAAAAAMMMMMNNNNNNNN BITCH BAD!!!!!!!
I_Roast_Niggas (WSHH): My god that chic is fine as fuck! Ass look like two tanned midgets playing patty cake.
BizzyLi (WSHH): I just put the song on mute and watch the video broads 😀
Jesus Shuttlesworth (WSHH): i came to see ol girl in the video i didnt give a fuck about what scooter was talking about
3_PAYPA_0_CUTZ_5 (WSHH): dammmmm she badd.. but i always thought this song ws wackk
FYI: The video chick's name is Dayami Padron. You're welcome, fellas!
Check out Young Scooter's heavily bleeped "Colombia" video below (and make sure you watch it on mute for the best experience):
Be the first to receive breaking news alerts and more stories like this by subscribing to our mailing list.