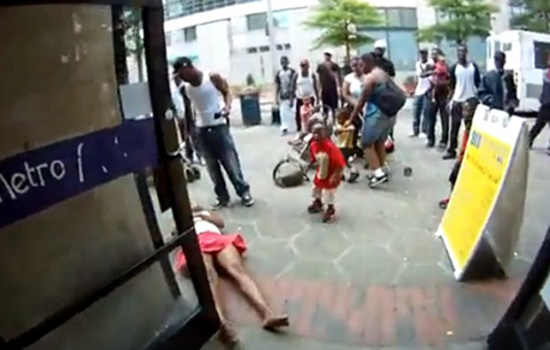 Video footage showing a woman being tasered by a security guard in front of her kids outside an Atlanta strip mall has been making its rounds all over the Internet this week.
While there are no details behind the video clip, it's pretty clear what's going on if you watch from beginning to end.
The nearly five-minute video — recorded at the 5 Points Plaza in downtown Atlanta — opens up with the sound of loud shrieking in the background, apparently coming from a group of small children playing in front of a store nearby.
The security guard, who is apparently wearing a video recording device on his chest, can be heard yelling "Hey!" in an effort to get the bad azz kids to act like they have some home training. And judging by the reaction from their mother … it's evident that they do not.
After hearing the security guard chastise her kids (basically doing HER job), the woman and a friend of hers (or possibly a family member?) come from out of nowhere and start to verbally attack the man, unleashing a firestorm of profanity and homophobic slurs.
"No you NOT finna yell at her! … Witcho pussy ass! Don't yell at my motha-fuckin kids!!! You'll get beat!"
As the women curse the security guard out, he repeatedly tells them to "back it up! You better back it up!" At that point, the women instruct the children to yell some more, as they call him a "faggot ass nigga" and continue to say things like "Niggas like you get fucked!" and "You take dick every night!"
Mind you, the children are standing right there listening to these grown azz women act a GOT damn fool, and they even join in with the verbal attacks. One little boy, who looks to be no more than 4 or 5 years old, can be seen and heard shouting, "You gay! You gay! That's why you gay!"
At around three minutes into the video, after going back-and-forth for some time, the woman, still shouting obscenities, steps to the security guard, and proceeds to swing at him. Obviously having had enough of her ratchet behavior, the security guard, after several warnings, then pulls out his taser and shoots the woman with it, and she instantly buckles and falls hard on the concrete sidewalk.
The demeanor on those same children who were yelling at this man, shouting "you gay, gay!" instantly change, and they can be seen in the clip jumping up and down crying, screaming "Mommmmmaaaaa!!!!"
In response to the tasering, a man (the baby daddy?) in a wifebeater t-shirt tries to scold the security guard. "For real?!? With my babies right there?" he shouts, but the guard tells him to keep it moving or else he'll suffer the same fate. The man eventually walks away and lets it go.
Ratchet activity at its finest.
Watch below:
Be the first to receive breaking news alerts and more stories like this by subscribing to our mailing list.