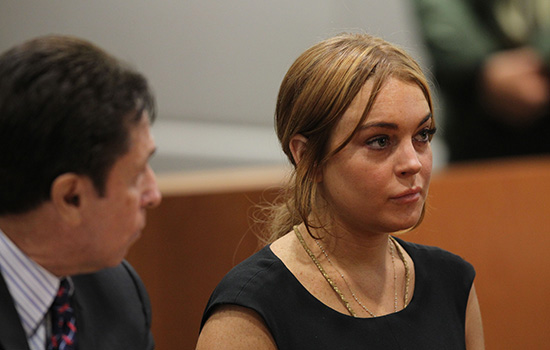 After claiming that she would not be able to make her court date Wednesday (Jan 30) because she was soooooooo **cough cough** sick, Lindsay Lohan made the smart decision to show up after all, and face Judge Stephanie Sautner to answer to charges stemming from when she lied to to the cops last summer.
Lohan originally claimed that she would not be able to appear because she was "sick" with an "upper respiratory infection." However, after photos surfaced of her on a shopping spree in New York, Lohan decided it might be in her best interest to make an appearance, and it did not go unnoticed.
"I'm glad to see you're feeling better," Judge Sautner sarcastically said to Lohan, who smirked and replied with a simple, "Thank you." (Aw … kward!)
Making things even more awkward, as the hearing commenced, Lindsay's new lawyer Mark Heller tried (and failed) to sweet-talk Judge Sautner by bringing up the fact that the both of them were from New York, while also complimenting her previous work as a detective.
"It is a great honor to appear before you," Heller began, before he was cut off by Judge Sautner, who sharply replied, "Flattery doesn't get you anywhere." (Ouch!)
Lohan had flown in from New York to Los Angeles the night before to face the court for last summer's incident when Lohan was accused of lying to the cops following, what else, a car accident.
And just like everything else with Lohan, this trip was anything but smooth sailing.
Upon arriving in L.A., Lohan's attention-seeking mother Dina unsuccessfully tried to check into Shutters on the Beach hotel in Santa Monica and was turned away. Reportedly, Lindsay has been blackballed from the hotel after allegedly trashing one of the rooms in 2007.
The Lohans then made their way down to the Loews Hotel where they were also turned away, because according to management, there were no rooms.
According to TMZ, it isn't unclear where Lindsay and Dina ended up … but despite all of the hotel confusion, Lohan still made it to court — albeit a few minutes late — with her new lawyer in tow.
Lohan recently fired her longtime lawyer Shawn Holley, who helped her avoid jail following countless run-ins with the law. It remains to be seen if Mark Heller will be as lucky, but he was sporting a lucky rabbit's foot on his Louis Vuitton briefcase. (With Lindsay Lohan as a client, he's going to need all the luck he can get!)
During the 13 minute hearing, Judge Sautner made sure to note that Lohan could still face a probation violation stemming from her jewelry theft case whether she is found guilty or not in the lying case. Though she isn't required to attend, Lohan's next hearing is set for March 1st.
Be the first to receive breaking news alerts and more stories like this by subscribing to our mailing list.