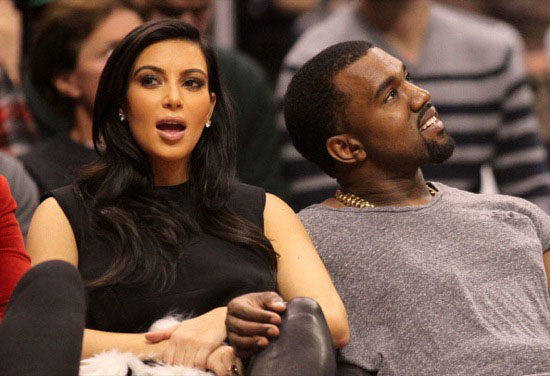 The Internet almost shut down last night when Twitter started telling everyone that Kanye West had announced that Kim Kardashian was pregnant with his child.
At his last of three concert in Atlantic City, New Jersey at the multi-billion dollar Revel Resort, Kanye told his sound technicians to "stop the music for a sec," and asked the crowd, "Can we make some noise for my baby mama right quick while she here?" which was met with a round of cheers and applause. (Watch below)
Kim, who was sitting in the audience, is said to have been totally unaware that Kanye would announce their pregnancy, and was just as surprised as the rest of the crowd, and later, the Twitterverse.
Within moments, Twitter exploded with a flurry of tweets, and Kim Kardashian's name (and a few variations like "Kim" and "Kim K") was a trending topic.
Among the barrage of messages and well-wishes from strangers were tweets from Kim's family members, including her sisters Kourtney, Khloe and Kendall, brother-in-law Lamar Odom, and of course, momager Kris Jenner.
Kourtney Kardashian: Been wanting to shout from the rooftops with joy and now I can! Another angel to welcome to our family! Overwhelmed with excitement!

Khloe Kardashian: KIMYE!!!!! Keeping secrets is hard with so many family members! Especially when you are so freaking excited!!!!! Love is Everything!!!!

Lamar Odom: I'm excited for Kanye and my sister! There's nothing like bringing life into this world! Let's keep Gods blessings coming!

Kendall Jenner: Who's excited about the KIMYE babbyyy?! 😀 weeee

Kris Jenner: I'm a happy girl !!!!!!!! Wowza! Oh BABY BABY BABY!!
The reality star later confirmed the happy news herself in a blog post titled "New Year, New Beginnings" on her official website Monday morning (Dec 31):
"It's true!! Kanye and I are expecting a baby. We feel so blessed and lucky and wish that in addition to both of our families, his mom and my dad could be here to celebrate this special time with us. Looking forward to great new beginnings in 2013 and to starting a family. Happy New Year!!! Xo"
Kim and Kanye (best known to the free world as "Kimye") have been dating for eight months, and had previously denied "rumors" that they were expecting their first child together.
The couple were last seen together publicly on Christmas Day in Los Angeles last Tuesday (Dec 25) as they watched Kim's brother-in-law Lamar Odom play with his new team The Clippers against the Denver Nuggets.
According to E! News — who's probably more in the know than anyone about this pregnancy, next to to the Kardashian Klan of course — Kim is about 12 weeks (3 months) pregnant.
Be the first to receive breaking news alerts and more stories like this by subscribing to our mailing list.