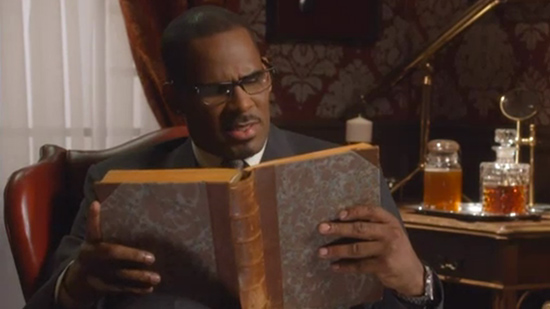 It's been 5 years since R. Kelly released the last chapter (or what we thought was the last at the time) of his epic hip-hopera "Trapped in the Closet," and now the R&B crooner has returned with 10 more, which were debuted in New York City and on the IFC channel over the Thanksgiving Holiday.
Many people believe Kellz' TIC series to be a complete joke, but even if it is, the singer/songwriter is laughing all the way to the bank … because he recently revealed that he has big plans to take the series to Broadway!
"I don't have a job, so I sit in the studio all day and think of stuff to do and this is just something stupid I've done that's been successful for me. I'm having a lot of fun with it," he said, according to the Associated Press.
R. Kelly also revealed that there are, in total, 85 chapters of TIC "waiting in the studio for y'all," he said. "The chapters that are coming — the show, we call it — is going to exceed every chapter that you have ever seen."
So without further ado, check out R. Kelly's "Trapped In The Closet" Chapters 23 – 33 below!
Be the first to receive breaking news alerts and more stories like this by subscribing to our mailing list.