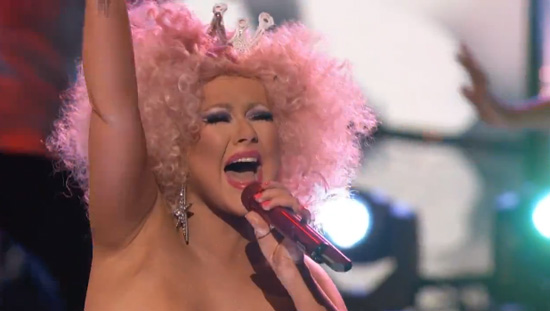 You might not have noticed, since her first single "Your Body" has flopped, but Christina Aguilera actually has a new album, "Lotus", coming out. So being the smart cookie that she is, XXLtina used the only platform available to her: NBC's "The Voice" — the show where she serves as a celebrity judge.
Instead of performing the aforementioned dud, "Your Body," Christina took the opportunity to cross-promote by having her co-star Cee Lo Green perform their duet from her new album, "Make the World Move."
The song's a jazzy, shouty kind of thing and for the most part, the track works. Christina decided to do her Miss Piggy meets Marie Antoinette thing for the performance, while Cee Lo kept it regal with a majestic scepter thing.
But whoa nelly! Something went really wrong when Christina got to hollering (as she usually does) about 2 minutes and 25 seconds into the performance. Her voice cracked and the belt sounded more like an alleycat being scalded with hot water than the triumphant roar of a pop diva.
You can tell Xtina knew she'd missed the note too because she immediately reaches up to ear piece to adjust it, as if something were wrong with it and not her own voice.
Watch Christina Aguilera and Cee Lo's duet below:
Be the first to receive breaking news alerts and more stories like this by subscribing to our mailing list.