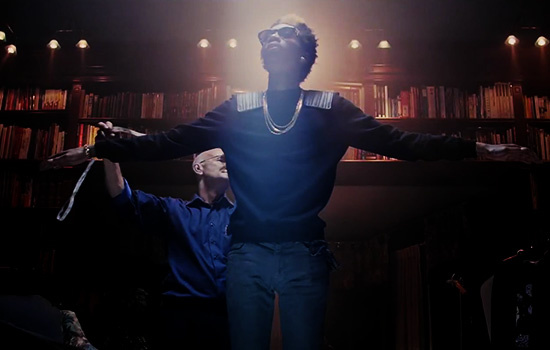 Wiz Khalifa is getting close to the December 4th release date for his sophomore major label album "O.N.I.F.C." which means that it's time for him to roll out the visual for the second single off the album — "Remember You" featuring The Weeknd.
Wiz Khalifa fully embraces The Weeknd's sound on this eerie track and the video is not much different.
We find Wiz Khalifa in a dark mansion of sorts and a young girl encounters a twisted cinderella experience. She leaves a hard working job at the diner with a strange female who fills in as fairy godmother and is transformed into an evening dress along with other luxury wear.
The track and video are teeming with Weeknd-esque imagery and sound but the only problem is that there is actually no appearance by Abel Tesfaye in the video.
After releasing his video for "The Zone" featuring Drake maybe The Weeknd was too busy to stop by Wiz's video shoot. In the end, what the viewers are left with feels like a bit of an empty visual with even Wiz's presence playing a smaller role.
"O.N.I.F.C"  boasts some quality music thus far with "Work Hard, Play Hard" and "Remember You," both being strong singles that demonstrate Wiz's growth as an artist, but so far, he has not quite been able to keep his visuals up to par.
Either way Taylor Gang representers can be expected to show support come December 4th when "O.N.I.F.C" is available in stores and online.
Check out the video for "Remember You" below:
Be the first to receive breaking news alerts and more stories like this by subscribing to our mailing list.