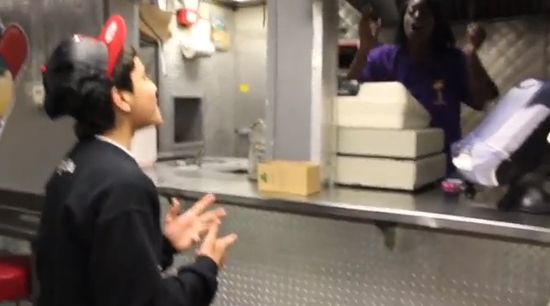 People think New Yorkers are rude, but they ain't got nothin' on the ratchet and rowdy crew over at Chicago's The Weiner's Circle. The hot dog joint is as famous for its abrasive, foul-mouthed customer service as it is for its hot dogs.
And now, the hoodrat employees at The Weiner's Circle have landed their own Tru TV reality show too.
So why did a little boy try to get buck with these professional jackasses and get slaughtered like a lamb walking into a lion's den? His brother, who filmed the whole damn thing, ain't no good for setting him up like that.
Did you hear the cashier?
"I'll be ratchet motherfucker but I'm a ratchet motherfucker on TV making money. What about you, motherfucker?," she hollers. "I'm on TV! Reality TV star!"
Sounds like ol' girl is channeling her inner Nene Leakes.
Girl, slow your roll though. Tru TV ain't cuttin' checks like Bravo, so be easy.
Still that little boy tried it. He damn near walked out of there with his tail between his legs.
Be the first to receive breaking news alerts and more stories like this by subscribing to our mailing list.