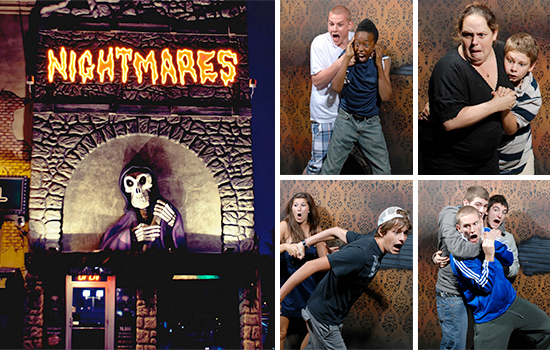 It's that time of the year when your friends and/or significant others drag you out to haunted houses where you pay $10 bucks to get the shit scared out of you.
Nightmares Fear Factory — a popular haunted attraction in Niagara Falls, Canada — became an instant Internet sensation last year after their HEE-LARIOUS photo collection of people being scared out of their minds went viral, and this year they're back at it.
At Nightmares Fear Factory, the oldest haunted house North America, visitors wander around in total darkness and are secretly snapped off-guard as they are being randomly frightened throughout the attraction — and the results are pure hilarity!
From grown ass men to small children to even large groups and entire families (yes, even mom and dad are scared too!) … the grimaces, shrieks and looks of genuine surprise (and/or terror?) have to be seen to be believed.
We're not sure what it is exactly that is causing all of these people to freak the freak out, so if anyone has ever been to this place, please let us know in the comments!
Check out 60 hilarious photos of terrified people at Nightmares Fear Factory below:
Be the first to receive breaking news alerts and more stories like this by subscribing to our mailing list.