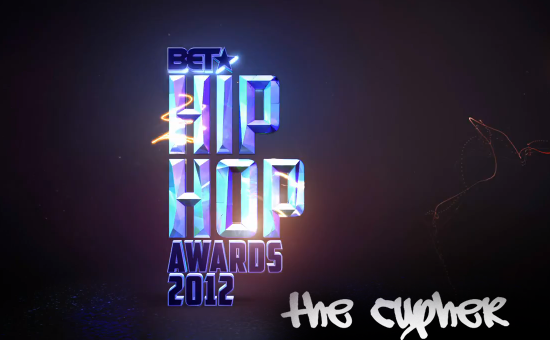 The rap cyphers have become the highlight of the BET Hip-Hop Awards each year now, with Hip-Hop artists, both established and up-and-coming, showing off their freestyling skills in black-and-white clips that show in between commercial breaks.
With DJ Premier on the turntables, the cyphers for this year's Hip-Hop Awards featured verses from T.I.'s Grand Hustle crew (himself, B.o.B, Iggy Azalea, Chip & Trae Tha Truth), as well as Mystikal, Mac Miller, Talib Kweli, RZA, Driicky Graham, Childish Gambino, A$AP Rocky and others.
The 2012 BET Hip-Hop Awards cyphers also featured freestyles from the Ruff Ryders (Mook, Cassidy, Eve & DMX) and West Coast rappers Xzibit, YG, Kurupt, E-40, DJ Quik, Kendrick Lamar and Snoop Dogg.
Watch the BET Awards 2012 Cyphers below:
GRAND HUSTLE: T.I., B.o.B, Iggy Azalea, Chip & Trae Tha Truth
Mac Miller, Mystikal, Schoolboy Q, Hopsin, & Sprite Hot 16 Winner Jay Bird the Purdi Boi
Talib Kweli, Jean Grae, Ab Soul, & Sarkodie
RZA, Angel Haze, Joey Bada$$, Driicky Graham, Childish Gambino, & A$AP Rocky
WEST COAST: Xzibit, YG, Kurupt, E-40, DJ Quik, Kendrick Lamar, & Snoop Dogg
RUFF RYDERS: Mook, Cassidy, Eve, & DMX