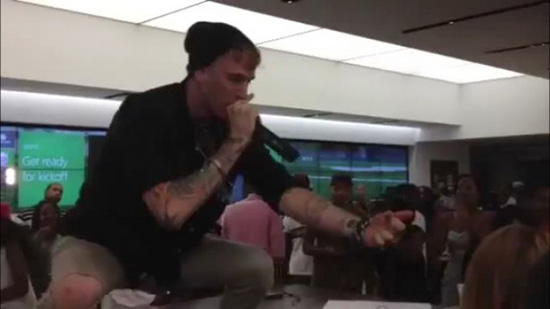 Machine Gun Kelly raps about being a "Wild Boy" in his music, so when The Source Magazine booked him to perform at the Microsoft Store at Lenox Mall in Atlanta … what did they expect? A tamed, subdued performance that you can take granny to?
No, sorry, that's just not how MGK rolls. And it's best you learn that sooner, rather than later.
According to All Hip-Hop, the Bad Boy rapper went STUPID HAM during his performance at the Microsoft Store, which was held to promote The Source's "Power 30 issue."
During his performance, the rapper began jumping on tables in the store which housed brand new and expensive computers and laptops.

MGK ignored the pleas of the Microsoft staff to get down, and instead hit them with the middle finger and said: "Suck my d*ck, I'm up in this motherf*cker. MGK in this b*tch. F*ck these computers."

After about 40 seconds into his first song and after stomping on at least five computers, the staff cut off his music and his mic.
MGK was then promptly escorted to a private area of the store, and he was asked to leave. Later, on his Twitter page, MGK claimed to have been kicked out of the store by police:
Haha love the caption. This was a pic from last night before police kicked me outinstagr.am/p/QLvRFWCtXT/

— Machine Gun Kelly (@machinegunkelly) September 30, 2012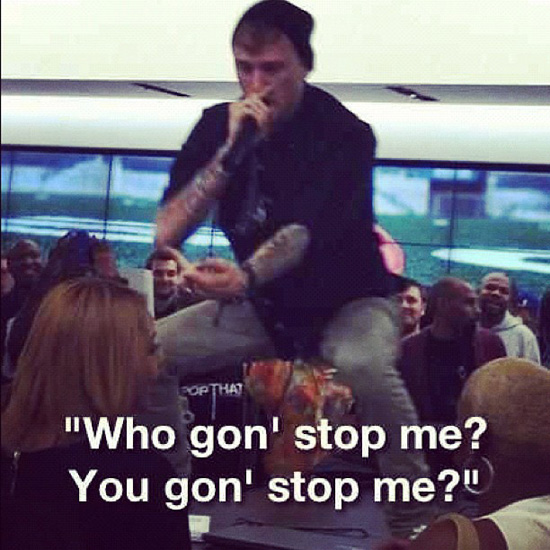 According to The Verge, Microsoft regularly books recording artists for performances at its retail stores, and obviously, MGK's raucous performance was not what it expected.
But the software giant denied having any involvement with MGK's shenanigans, saying in a statement, "We offer our stores as a venue for the community to use, and this event was not sponsored by Microsoft. While the artist's behavior was appropriate for a concert, some of it was not appropriate in a store environment."
The video footage of MGK going hammer at the Microsoft store is below:
Be the first to receive breaking news alerts and more stories like this by subscribing to our mailing list.