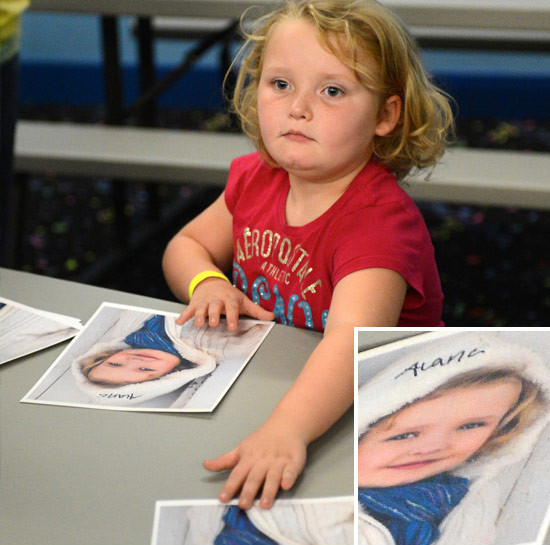 Now that Honey Boo Boo is a certified reality TV smash, she's quickly become a breadwinner for her redneck family. But the pressures of fame and success are a lot to put on 7-year-old Alana Thompson's shoulders.
TMZ snagged this shot of Honey Boo Boo hard at work "signing" autographs for fans at The Fun Zone in Milledgeville, Georgia before joining her friends and family for a night of fun.
The girl can barely write and read but they've got her hard at work, scribbling "Alana" away on a sharpie? Can't they get that girl a stamp and call it a day?
This is how child stars lose their innocence, toiling away for hours on end just so grown-ass folks can giggle and recite a 7 year old's one-liners to her face. This is what Macaulay Culkin had to go through.
Poor Honey Boo Boo looks downright miserable in the photo above.
How many hours did they have her doing this? The government better keep an eye on her. You know Honey Boo Boo's family will be quick to violate child labor laws for a fat pay day and a Groupon to KFC.
Is this too much or are we just being overly sensitive?
Be the first to receive breaking news alerts and more stories like this by subscribing to our mailing list.