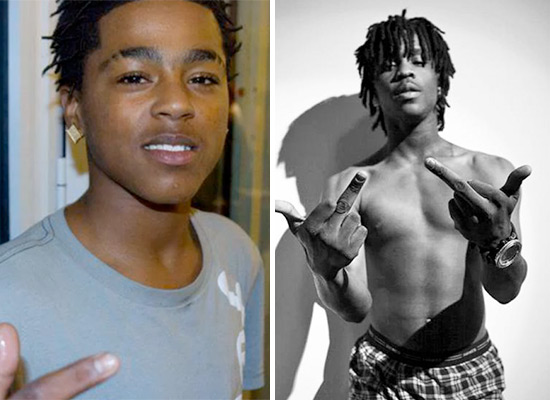 A teenage rapper named Joseph Coleman, better known by his stage "Lil JoJo," was shot and killed in Chicago Tuesday night (Sep 4), and Chicago rapper Chief Keef thought that the incident and death of his rival was so funny that he laughed about it all over Twitter … then blamed his hateful tweets on "hackers."
If you know Chief Keef, the 17-year-old rapper from Chicago who is famous for his viral song "I Don't Like" — which was remixed and made even MORE popular by Kanye West — then you may, or may not, know that he was allegedly involved in a shoot-out with police late last year, and was arrested and charged with aggravated unlawful use of a weapon, which resulted him in spending a few months on house arrest at his grandmother's house. (No joke!)
So he's definitely no stranger to teenage gun violence. That, coupled with claims that he suffers from Asperger's Syndrome — which apparently gives him a license to carry not one fuck to give — and you've got a young rapper does crazy things, like ungratefully say "Kanye West ain't do shit for me" or laugh at someone's death.
Before he was gunned down, Lil JoJo had been entangled in a beef with Chief Keef associate and fellow rapper Lil Reese … and just a few days ago, JoJo and Reese were seen having an angry exchange with each other in a video clip posted on YouTube (see below), in which someone can be heard yelling "I'mma kill you."
According to police, Coleman was riding his bike Tuesday when a gunman opened fire from inside the car, striking him at least once. Coleman was immediately rushed to the hospital, where he was pronounced dead.
And just a few hours later, Chief Keef seemed to be laughing at the tragedy that fell on his teenaged rival:
hahahahahhahahahahahahahaahhAAHAHAHAHA #RichNiggaShit

— CampaignSosa300 (@ChiefKeef) September 5, 2012
Its Sad Cuz Dat Nigga Jojo Wanted To Be Jus Like Us #LMAO

— CampaignSosa300 (@ChiefKeef) September 5, 2012
Later, Chief Keef (real name: Keith Cozart) claimed that his Twitter account had been hacked:
my twitter has been hacked I think I'm making a new one dumb hating ass people #DontWannaSeeAYougNiggaShine

— CampaignSosa300 (@ChiefKeef) September 5, 2012
Police believe that Lil JoJo's shooting death was the result of a long-standing beef between two Chicago area street gangs, and the young rapper — a member of the Gangster Disciples — had been going back and forth online with members of rival gang the Black Disciples shortly before the shooting.
See some of his last tweets (some dated just HOURS before he was murdered) below:
Just Caught @lilreese300N Traffic His Daddy tryna talk It Out #NoTalkin #Bricksquad

— #OsoarrogantENT (@OsoArrogantJoJo) September 4, 2012
I am out here on my 2 feets wya bitch @lilreese300

— #OsoarrogantENT (@OsoArrogantJoJo) September 4, 2012
@bcity79 @lilreese300 lmao im on 069 Stop The Fuckin flexin

— #OsoarrogantENT (@OsoArrogantJoJo) September 4, 2012