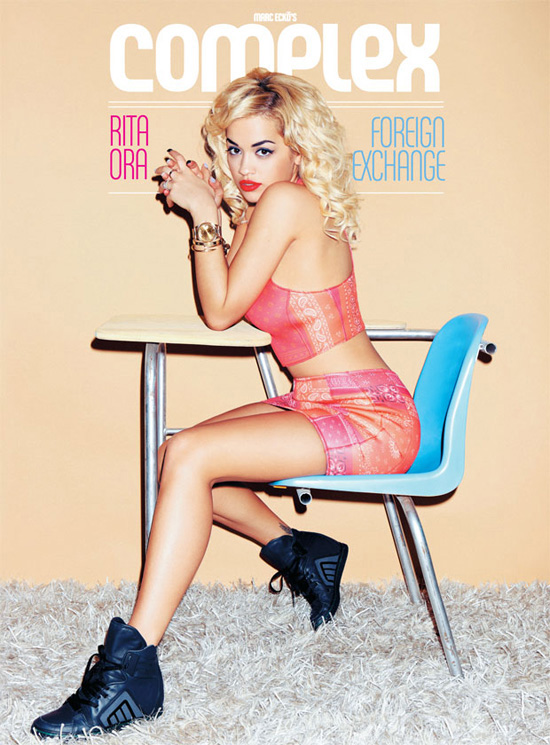 Rita Ora, gearing up for the release of her debut album, shows up on the cover of the August/September 2012 issue of Complex Magazine.
Inside, the 21-year-old British singer/songwriter talks about everything, from pre-concert nerves and working with Jay-Z, to her "relationship" (or lack there-of?) with Rob Kardashian, as well as how she feels about her label-mate Rihanna (who she's constantly compared to).
Check out the excerpts (and the photoshoot) below:
On her 'relationship' with Rob Kardashian:
"I mean, it's not really a relationship. It's not that intense. He's a cool guy. We're close. We're good friends. I got his back and he's got mine. To me, it doesn't matter who you are or where you're from—if you're a good person and you got my back, I got yours. It's that easy for me."

On working with Jay-Z:
"I was when I first got signed, knowing what he's done and the empire he's created. But he's one of the nicest people I've ever met. He made me feel so at ease that I forgot he was Jay for a minute. He turned into this brother figure and an amazing boss."

On her pre-concert jitters:
"I get nervous before shows and then I'm just like, OK—let's go. It's like, you can't f**k it up now 'cause everybody's watching you. It's more of a rush—like an adrenaline high."

On being friends with Rihanna, despite rumors saying the contrary:
"I admire Rihanna. She works her ass off. She hasn't had a break and she has given people hit after hit after hit. That work ethic and discipline is hardcore. That's the kind of sh*t that I want to do. That I will do." She adds, "Everyone thought that we hated each other, but the whole thing was created by the media. That's what's so funny."
[Complex]
Be the first to receive breaking news alerts and more stories like this by subscribing to our mailing list.