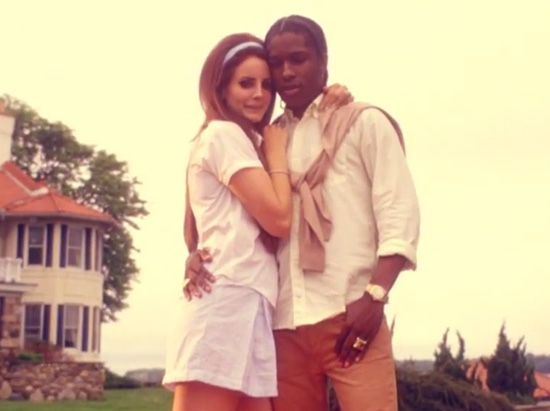 The on-screen chemistry between A$AP Rocky and Lana Del Rey in the latter's new "National Anthem" music video must have been pretty real … because the 23-year-old rapper obviously has the hots for his on-screen lady, and has admitted (in his own way, of course) that he wants to have sex with her.
"N*gga look at this b*tch, I wanna f**k the sh*t outta her," Rocky admitted in a recent interview. "Look at her she's gotta be in her late 30s and sh*t… Err, Hello?"
A$AP Rocky plays a "trill" JFK to Lana Del Rey's Jackie O in the video for her new single "National Anthem," and the pair serve up huge doses of PDA in a number of scenes … which was probably Lana's idea.
"Lana wrote the treatment with me in mind," the rap newcomer explained. "She wanted me to be the lead guy. Sh*t is like, everybody knows we got a thing for each other and we wanted to show that on screen."
Meanwhile, A$AP Rocky is gearing up for the release of his debut album "LongLiveA$AP" on September 11th, and Lana Del Ray's sophomore album "Born to Die" is in stores now.
Watch Lana Del Rey's "National Anthem" video featuring A$AP Rocky below:
Be the first to receive breaking news alerts and more stories like this by subscribing to our mailing list.