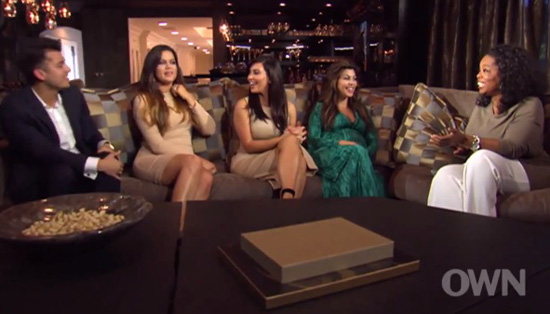 The Kardashian family sat down with Oprah Winfrey for a very candid interview that aired on "Oprah's Next Chapter" Sunday night (Jun 17).
Oprah previously admitted that this interview marked the first time she met the Kardashian family, and she had to do a 72-hour cram session to gather her questions, because she knew absolutely nothing about TV's favorite family (or not-so-favorite, depending who you ask).
During the interview, Oprah spoke candidly with Kim, Khloe, Kourtney and Rob Kardashian about what has made their family so famous. Then, she she sat down with the family matriarch Kris Jenner, who revealed her biggest regret, discussed her marriage to Olympic legend Bruce Jenner and more.
The last interview (during the first part of the two-part special) was Oprah's one-on-one with Kim, and NO topic was off-limits, as the reality TV star opened up about everything from her 72-day marriage to Kris Humphries … to her infamous sex tape with Ray J, which she admits introduced her to the world.
Those looking for details on Kim's current "relationship" with Kanye West will have to wait until next week when the second part airs on OWN.
For now, watch Part 1 below:
[Yardie]
UPDATE: CLICK HERE to Watch Part 2!!!
Be the first to receive breaking news alerts and more stories like this by subscribing to our mailing list.