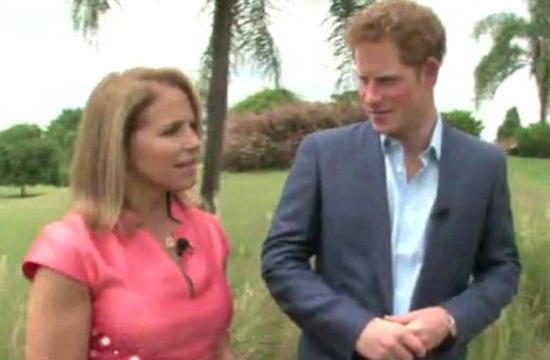 In a recent exclusive interview with Katie Couric … Prince William and Prince Harry spilled the beans on their much loved mother Princess Diana, their grandmother Queen Elizabeth, having kids and a lot more.
Concerning their grandmother, Prince Harry disclosed his admiration on how she was able to take on the throne at the tender age of 25, and how she has managed to take the helm of the monarchy in these modern times.
Harry's older brother Prince William also revealed just how much he missed their mother, the late Princess Diana, at his wedding last year to his wife Kate Middleton.
He said, "It's the one time since she's died, where I've … I've thought to myself it would be fantastic if she was here, and just how sad really for her, more than anything, not being able to see it. I think she …she would have loved the day and I think, hopefully, she'd be very proud of … of us both for the day. I'm just very sad that she's never going to get a chance to meet Kate."
Watch a clip from the "Jubilee Queen with Katie Couric" interview special — held to celebrate the Diamond Jubilee of Queen Elizabeth's 60-year reign — below:
In the run-up to mark the Diamond Jubilee of Queen Elizabeth's 60-year reign, the full interview special will air on ABC this Tuesday and is entitled "The Jubilee Queen with Katie Couric
Be the first to receive breaking news alerts and more stories like this by subscribing to our mailing list.