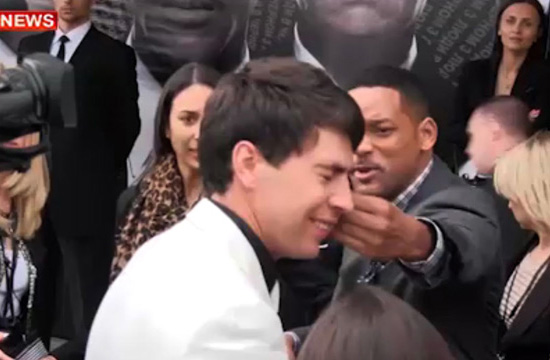 Just days after Will Smith showed his support for gay marriage, the 43-year-old actor ran into his own personal encounter of "guy-on-guy" action.
At the Moscow premiere of his new film "Men in Black 3" last Friday, Will was greeted on the red carpet by an Ukrainian reporter who at first gave him a friendly hug … but then tried to kiss him on the lips!
After realizing what had happened, Will pushed the guy back saying, "What the hell is your problem, man?" and then went on to smack the reporter right in his face. (Ouch!)
Everyone present appeared to be shocked as Will told onlookers, "He's lucky I didn't sucker-punch him … Oh, sorry, I said that on camera."
According to TMZ, the Ukranian reporter who tried to kiss Will is known in Europe for kissing and showing affection to celebrities. But Will wasn't having that!
Peep the footage of the incident below:
That guy is lucky Jaden wasn't there….he might have karate kicked that azz!
[TMZ]
Be the first to receive breaking news alerts and more stories like this by subscribing to our mailing list.