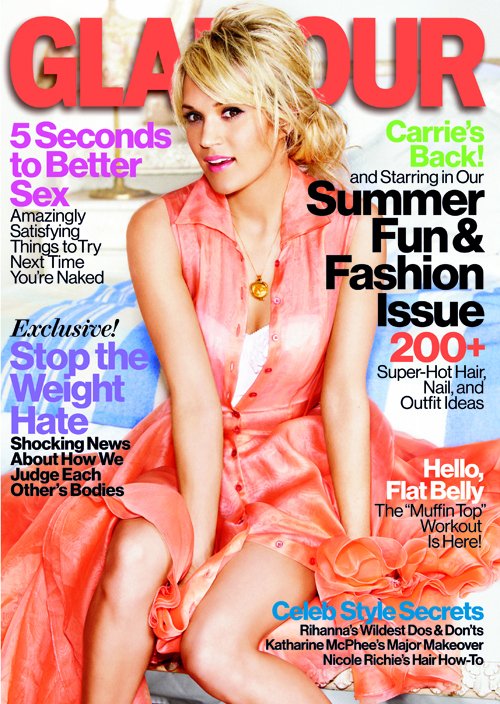 Hot on the heels of the release of her new album "Blown Away," country music sensation Carrie Underwood landed the cover of the June 2012 issue of Glamour Magazine.
Inside, the singer talks about her new album, her songwriting process, how she deals with being married and in the public eye and more.
Read the excerpts and take a look at some pictures from the photoshoot below:
On whether or not she could write a country song about being rich and famous:
"With no irony? I don't think so, because country music is for real people. I think it would be very hard to write about my Louboutins. Do you know what I mean? My giant house, it's not relatable. But my husband came from a small town and hardworking parents like I did, and I don't think we've lost that mind-set. We don't have a bowling alley in our basement. We don't have houses on the beach and one in New York and one in L.A. I drive a three-year-old Ford Escape Hybrid. We don't care about stuff like that."

On her new album Blown Away:
"There's a happy-go-lucky feeling to some of it: A nice spring day, put the top down, turn it up, enjoy the world. But there's a darker feeling too. We kill a couple people. It wouldn't be a Carrie Underwood album without a revenge song on it. People really like when I do that. I don't mean to. I don't hate men that much. But it turns out so well!"

On her songwriting process:
"I'm not a creative person who's up until 4:00 A.M., writing songs and being weird. I write with people, sharing stories, catching up. I feel I could easily sit down and write a song by myself, but when you get three people, different emotions pour out, and you take them all, round them up, and make them into one coherent thought."

On what she wishes were different about her singing voice:
"I'm competitive. When I hear somebody else do something I can't, it drives me nuts. Steven Tyler–that screamy thing he does? I can't do that. I have too much control over my voice. Or people like Mariah Carey, who can do whistle tones [notes that are at the highest point of the vocal register]. I've tried, but I can't train myself to do it."

On doing chores she likes vs. chores she'd rather someone else do:
"I love to be at the grocery store. It makes me happy to have a full fridge and a full pantry. I hate sending my laundry out. I don't like the thought of other people washing my clothes. What am I happy not doing? Lawn care. And I have a business manager who pays my bills. I did all that myself in college, but I only had one credit card back then."

On her first irresponsible purchase after her career took off:
"My first stupid purchase was an accident. I was in Paris and went into one of those big, name-brand, fancy-schmancy designers, and I picked up a sweatshirt. Maybe I didn't understand the price tag. I'm really bad with numbers. But when I went to check out, that sucker was $2,000. I've worn it twice."

On being in a relationship with her husband, Mike Fisher, in the public eye:
"A plus is, he knew what to expect. In Canada he was a big celebrity, so he knows what it's like living under a microscope. And he travels a lot, which is good for both of us. We're both independent people, so we can't have somebody around 24 hours a day, seven days a week. The drawback is that we can go weeks without seeing each other.

"But he's the only guy I've never had to worry about. Any guy I've ever dated, there would always be that doubt: 'He didn't answer his phone. What's he doing? It's late.' I'm not the crazy-girlfriend type, but there was a little voice in the back of my head. I don't have to worry about Mike. I don't think twice. He's going out? I don't care; it doesn't bother me. I don't bat an eye."
Carrie Underwood also performed her latest single "Good Girl" Monday night (Apr 30) on the "Late Show with David Letterman."
Check that out below:
Be the first to receive breaking news alerts and more stories like this by subscribing to our mailing list.