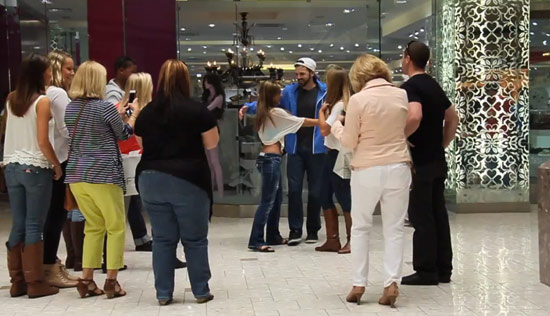 Even without the Internet … it doesn't take much to be a celebrity nowadays. A guy named Thomas Elliott Cramer and his friends recently proved this to be true by tricking a large group of shoppers at a Virginia mall into thinking Thomas was a celebrity named "Thomas Elliott."
Their "social experiment" worked out so well that they were able to shut down stores and were given escorts from mall security.
A description of the video posted to YouTube reads:
Last Saturday we went to a popular mall in Virginia and conducted a bit of a social experiment. Using his real first and middle name, and with the help of just a few staged people, tons of people believed Thomas was a famous actor, including mall security.

The mall assigned us a security detail who escorted us everywhere and helped close stores for the supposed celebrity. They also took us through private corridors to avoid the frenzy. Our cameras were quickly shut down, and most of our footage was captured with a single iphone. The following is just a taste of all the autographs, pictures, and people who wanted get close to all the commotion. Do something fun today.
Watch the hilarious footage below:
Does anyone use Google anymore?? Even a blind person could have Googled Thomas Elliot and found out he isn't a real celebrity. C'mon son!!
[Spotted at CBS]
Be the first to receive breaking news alerts and more stories like this by subscribing to our mailing list.