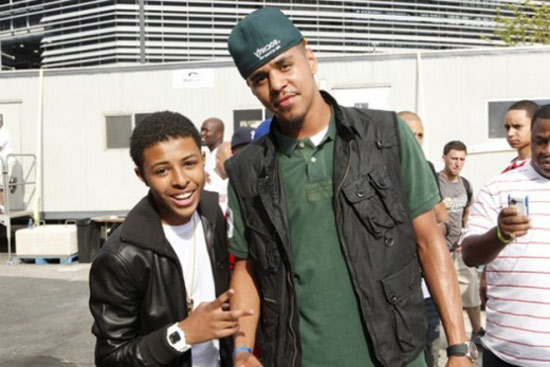 Diggy Simmons isn't the biggest J.Cole fan right about now!
An unreleased track recorded by the teen rapper dissing J Cole leaked over the weekend.
Apparently … the track is in response to an old song Cole recorded a few years back titled "Purple Reign" and a new track from the MC titled "Growing Up Fast."
In "Growing Up Fast," Cole raps:
"Move along cock-sucker, ain't got nothing to see/'less you talking blockbuster, you niggas is not Russell, you more Diggy/Me, I'm more Biggie, no diss to the young boy, I'm just rapping, get bored quickly."
But what really appears to have Diggy's panties in a bunch is how J. Cole makes reference to his older sister Vanessa in "Purple Reign."
Diggy responds back with his new track "What You Say to Me," which is said to have been recorded a year ago.
"The other day I was listening to 'Purple Rain'/Couldn't believe all the things that I heard him say/Who Dat? Who Dat? You know who it is/Heard you lying on my sis, tellin' people that you hit," Diggy raps. "When your album drops I'ma hit you with your bricks, so I'ma bomb first on you since you wanna riff/Who you gonna call, you ain't got no friends, this fight is fixed/You ain't got no wins/Little nigga named Cole think he live like me, jet setter trend setter, yeah you not like me/Can't find a girl that you know that do not like me, can't find a girl I know, who know you, you dumb fool/Wasn't even poppin' in the school you used to go to."
Diggy continues:
"Got aight lyrics but can't deliver your vocals/I'ma about to read you your rights, Miranda?only thing you hittin "In The Morning" is your Hand," Diggy continued firing at Cole. "Stand up, matter fact sit down/Don't try to call Hovi Hov for a sit down/College boy, acting like a criminal/Knowing you a broke back Jake Gyllenhaal/You imaginary player, even TMZ didn't notice you was there/Geesh, you are such a dweeb?and your shirts don't fit, long arms, short sleeves."
Take a listen to "What You Say to Me" below:
Just Like burgers from McDonald's …. THIS IS SOME ODD BEEF!
Is Diggy overreacting, or do you think he had a good reason to go in on Cole World?
Tell us below in the comments!
Be the first to receive breaking news alerts and more stories like this by subscribing to our mailing list.