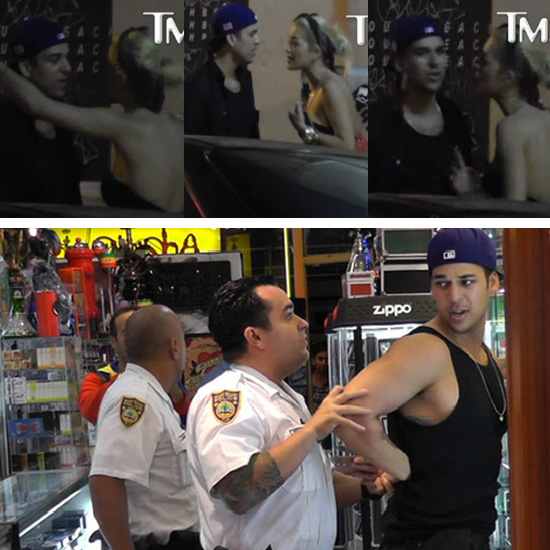 Rob Kardashian learned a big lesson about the paparazzi over the weekend!
The celebrity socialite was briefly arrested Sunday morning after chasing a paparazzo and cornering him in a bong shop.
According to TMZ, Rob was in the middle of a heated conversation with a "super attractive female" when he noticed the paparazzo was recording their conversation.
However … TMZ failed to mention that the super attractive female he was arguing with was Jay-Z's new Roc Nation artist Rita Ora.
Rob and Rita have been rumored to be dating since last year, but have kept their relationship low profile.
In the video footage recorded of the incident … the two appear to be very angry at each other about something. (Wonder what all that could be out about?)
But whatever it was, it was enough to make Rob follow the paparazzo into a nearby smoke shop.
Once in the smoke shop, Rob was about to close in on the guy, but right before he could cops arrived on the scene and put the handcuffs on him.
In the background of the video, you can hear the paparazzo yelling, "He's attacking me … he chased me … he tried to kill me!"
It was later determined there was no altercation and both men were let go.
So, the lesson learned? The paparazzi may be extremely annoying and take pictures or record footage of you whenever they please, but you cannot chase or make them feel threatened!
Makes a ton of sense … (NOT!)
Be the first to receive breaking news alerts and more stories like this by subscribing to our mailing list.