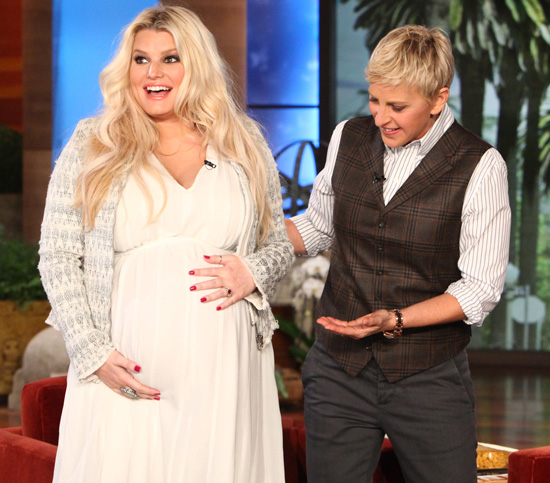 Jessica Simpson and her huge pregnant belly made an appearance on "The Ellen DeGeneres Show" Tuesday (Mar 13).
While there, the pregnant star talked about her due date, her baby's name (which she's still not telling) and more.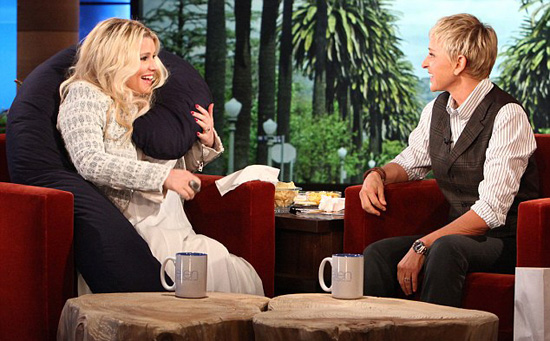 With Jessica looking big as a mansion house, you would think that her due date is within the next few days. But Jessica says she isn't due for another few "weeks."
Ellen: When are you due?

Jessica: I have some weeks.

Ellen: No you don't.

Jessica: I really do.  It's not like tomorrow.

Ellen: It looks like it's tomorrow.
Regarding the baby's name, Jessica says she and her fiance (NFL player Eric Johnson) have already picked one out, but they're not revealing it until she's born.
Ellen: Have you picked out the baby's name yet?

Jessica: I have but we're not really saying it until the baby is here.

Ellen: Of course, I know people say they have but you can't really know until you meet the baby.

Jessica: We've been calling her by her name.

Ellen: Oh, you have.

Jessica: She reacts to it.  I could be one of those physco mom's that just thinks one little kick… is her really listing to me.  She's really like, shut up.
Be the first to receive breaking news alerts and more stories like this by subscribing to our mailing list.