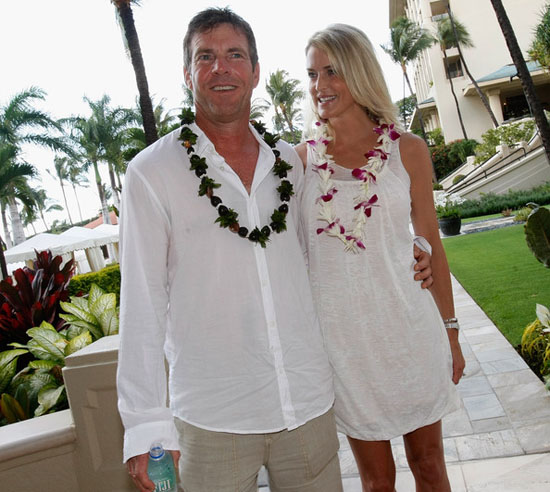 Actor Dennis Quaid and his wife Kimberly Buffington-Quaid are getting a divorce:
According to the divorce petition filed by Kimberly Buffington-Quaid and obtained by TMZ, "The marriage has become insupportable because of discord or conflict of personalities … that destroys the legitimate ends of the marriage relationship and prevents any reasonable expectation of reconciliation."

Kimberly is asking for spousal support and attorney's fees.

There is a temporary custody order in place, which provides that both Dennis and Kimberly each get time with their kids. The order only covers last weekend, but presumably they will get an updated order soon. The kids cannot be taken out of state or removed from school without an agreement by both parties or an order by the judge.

The temporary order also gives Kimberly possession of their main residence and the Mercedes. He gets the Cadillac Escalade and a condo.

And get this. The temporary order says, "The parties shall cooperate with one another in using the Range Rover…"

Kimberly is asking that all of their community assets be fairly divided. In Dennis' answer to Kimberly's petition, he says he wants her to get nothing.

Both Kimberly and Dennis are ordered not to say anything "vulgar, profane, obscene or indecent" to each other.
Be the first to receive breaking news alerts and more stories like this by subscribing to our mailing list.