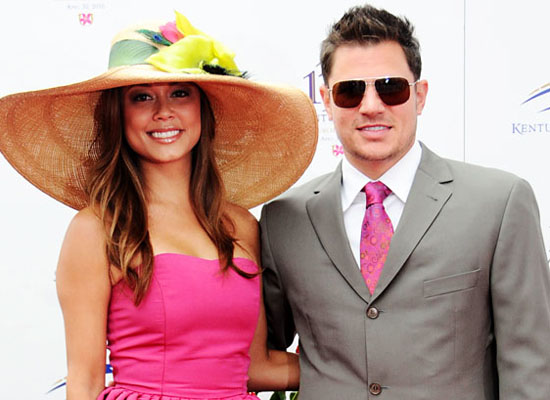 Nick Lachey recently revealed that he and his wife Vanessa Lachey (nee Minnillo) are expecting their first child together.
Nick confirmed the news Monday (Mar 5) during an appearance on "Live! With Kelly," adding that the baby isn't due for another 6 months or so.
"She's due late summer, early fall," Lachey said. "You find out you're pregnant and it's the most exciting news and yet you're not supposed to tell anyone for three months. I had to keep this secret for three months."
Pictures of Vanessa showing a small baby bump began to surface over the past weeks, however the couple never addressed the rumors, until now.
"This past week the pictures have started to come out. You can definitely see a baby bump," Nick said, adding that his wife has been craving lots of burritos these days. "She loves, right now, Mexican food."
Nick and Vanessa — who first started dating in 2006 around the time Nick had divorced Jessica Simpson — tied the knot last summer (June 2011) on a tropical island in front of a small number of friends and family.
Speaking of Jessica Simpson, she is also expecting her first child, and has been showing off her humongous baby bump in recent public outings. She's reportedly due in a few weeks.
Believe it or not, this isn't the first time Nick and Jessica's new relationships have mirrored one another's. The former husband and wife also got engaged around the same time, back in November 2010.
Coincidence? Or on purpose?
Your thoughts?
Be the first to receive breaking news alerts and more stories like this by subscribing to our mailing list.