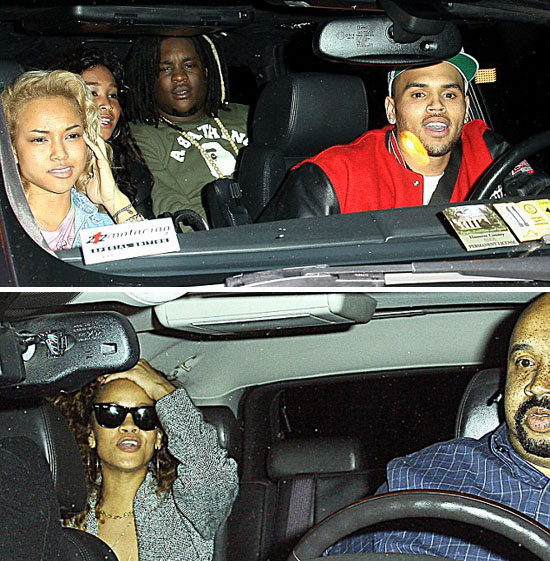 It was just a few weeks ago that Chris Brown and Rihanna were subliminally tweeting each other about love, and now the pair have fueled speculation that they are getting back together even more after being spotted leaving the EXACT SAME L.A. nightclub Sunday night (Jan 22) after a night of partying.
But they didn't leave together, nor were they spotted even acknowledging each other's presence inside the venue.
TMZ reported that several people who were at the club (Greystone Manor in West Hollywood) tweeted that as far as they could see, Rihanna and Chris had ZERO contact with each other.
Breezy, who was with his girlfriend Karrueche, left the club through the front door, while Rihanna exited through a side door and hopped into her own SUV.
Just last week, reps for Chris put out a statement insisting that he and his ex girlfriend Rihanna are "just friends" after several insiders said that the pair would "meet up very casually" and Rihanna "comes to see Brown anytime she's in L.A."
"He and Rihanna are just friends," noted Chris' reps. "He is with his girlfriend, Karrueche, and is not cheating."
However, a source recently revealed to Radar Online that while Chris and Rihanna have indeed been "hooking up," they will never get back together.
"They have probably hooked up no more than half a dozen times in the past year. It's very unlikely that Rihanna and Chris would ever get back together though. Rihanna doesn't care if she were to get public backlash if they were to reconcile, she is the one calling the shots now, which she likes. Rihanna knows that if they were to get back together, she wouldn't be able to maintain that strong role, and Chris would lose interest. They are both very young, and Rihanna would never be able to trust Chris because he has problems staying faithful."
Yeah … Sounds like Chris Brown and Rihanna are "friends" alright. "Friends with Benefits!"
Your thoughts?
Be the first to receive breaking news alerts and more stories like this by subscribing to our mailing list.