Swizz Beatz is at the center of a legal fight with Universal Music Group now that is has been discovered that the popular rapper/producer is the CEO of Megaupload.com, which was SHUT DOWN BY THE FEDS TODAY!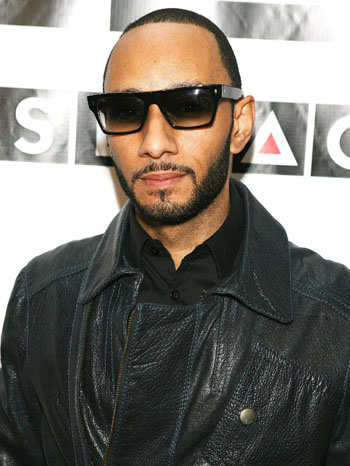 According to the Associated Press, the popular file sharing website's founder and several and several of the company's executives — including Swizz Beatz — have been charged with violating federal piracy laws.
A federal indictment accuses Megaupload.com of costing copyright holders over $500 million in lost revenue from pirated movies, TV shows, songs, software programs and other illegally hosted content.
A person known as "Kim Dotcom," along with three other executives, was arrested in New Zealand at the request of U.S. officials, the Justice Department said in a statement.
The company, based out of Hong Kong, listed Swizz Beatz (born: Kasseem Dean) as its CEO, though his name wasn't mentioned in the indictment and he has not yet commented on the situation.
Beatz reportedly persuaded some of his industry friends, like Sean "Diddy" Combs, Kanye West, Will.i.am, his wife Alicia Keys, and even reality TV star Kim Kardashian, to promote his site though a viral video used to promote the service.
But after the star-studded promo appeared on YouTube last month, Diddy, Kanye and Will.i.am's label Universal Music Group issued what is known as a "take-down notice" to YouTube, alleging that the artists' participation was unauthorized.
Megaupload fired back with a lawsuit against Universal to stop them from preventing distribution of the video. A rep for the website said in a statement:
"We have never received any word that any artist has [individually] filed a take-down . . . [we have] legally binding agreements with the performers that appear in the video . . . They promised that they had the rights to enter into that agreement and it's not interfering with any third-party rights."
Megaupload, which boasted 150 million users and received over 50 million hits daily, allowed users to freely download films, TV shows, games, music and other content. They made money by selling advertising and charging subscriptions to people who wanted access to faster download speeds.
The website, ranked at #13 in the world, is considered to be a "cyberlocker," where users are given the ability to upload and transfer files that would otherwise be too large to send via e-mail.
In theory, the site can have perfectly legitimate uses, however, the major record labels and the Motion Picture Association of America estimates that a large portion of the content being shared on Megaupload was in clear violation of U.S. copyright laws.
The federal indictment comes just one day after several websites including Wikipedia and Craigslist were "blacked out" in protest of two congressional proposals intended to stop online piracy.
The viral video Swizz Beatz convinced his industry friends to take part in can be seen below:
Be the first to receive breaking news alerts and more stories like this by subscribing to our mailing list.