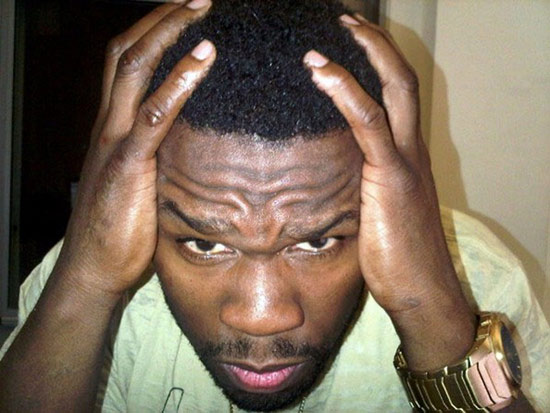 After playing the bully role for so long….50 Cent is finally getting to see what it feels like to be pushed around!
The G-Unit leader took to Twitter last night to vent over his label woes and even hinted at suicide.
Read the tweets below:
"I have lost all the faith in the team I'm on. I having nothing left to say I will not be promoting my music."

"I'm going to deliver this album then. I have a film I wrote to focus on I'm not upset I'm just convinced this is not how I want to remembered."

"Ill be honest I don't think I'm gonna live much longer. That's why I started my street king movement. I want to mean more in other peoples lives."

"I mixed the big 10 because everything I do has to be the best I can make it cause other artist will create after hearing the ideas."

"this morning I was look out the window. I saw a bird fly right on to ledge. It felt like he was looking right at me. I hit the window he"

"Just looked at me like he new I couldn't do anything threw the glass. I was tripping he sat there a minute then flew off. I'd like to a bird"

"So I could fly and sh*t on the world. then you all could say 50 sh*t on me. That's luck right ? Then don"t wipe the sh*t off."
Fif later cleared up his suicidal statements with the following:
"To be conscious that life is short is not suicidal. I'm good if I die tonight Iv taken care of the people who took care of me when I couldn't take care my self."
We can already tell this is going to be a crazy year…
Be the first to receive breaking news alerts and more stories like this by subscribing to our mailing list.