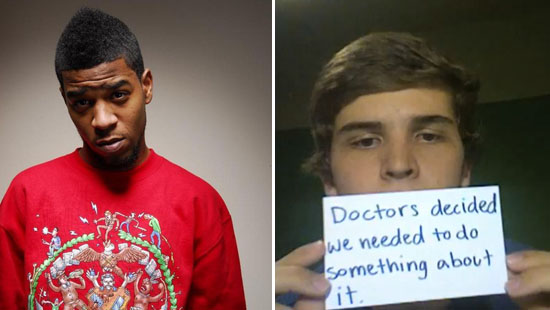 Kid Cudi took to his personal blog Monday morning (Dec 26) and penned a letter to Ben Breedlove, a fan of the rapper who had lost his battle with hypertrophic cardiomyopathy: a rare condition in which the heart muscles swell, leading to sudden cardiac death.
Before he died, 18-year-old Breedlove was the host of a popular YouTube channel ("OurAdvice4You") where he gave dating advice to viewers. But little did his most fans know, he was dealing with his own personal issues.
Ben Breedlove, a native of Austin, Texas, had been battling a life-threatening heart condition his entire life, and had faced death several times in his young life.
The week before he passed away, Breedlove recorded a 2-part series of videos where he shared his feelings about death, and how he had "cheated" it at least three times.
The teenager also shared a vision that came to him when paramedics were reviving him at his school:
"While I was still unconscious, I was in this white room. No walls. It just went on and on. There was no sound [but peace]. It I was wearing a really nice suit. And so was my favorite rapper, Kid Cudi. Why he was the only one there with me, I'm still trying to figure out. But I was looking at this mirror that was in front of me. The first thing I thought was damn we look good… I couldn't stop smiling."
After seeing the videos for himself, Kid Cudi personally wrote a very touching message (via his blog) to the young fan and his mourning family:
I am so sad about Ben Breedlove. I watched the video he left for the world to see, and him seeing me in detail, in his vision really warmed my heart. I broke down, Iam to tears because I hate how life is so unfair. This has really touched my heart in a way I cant describe, this is why I do what I do. Why I write my life, and why I love you all so much. Life is really fucked up sometimes, but I know Ben is at Peace, and I hope he gets a chance to sit and talk with my Dad. We love you Ben. Forever. Thank you for loving me. To Ben's family, you raised a real hero, he's definately mine. You have my love.

– Scott Mescudi
Ben Breedlove reportedly died on Christmas night (Sun. Dec 25). May he rest in peace…
Be the first to receive breaking news alerts and more stories like this by subscribing to our mailing list.