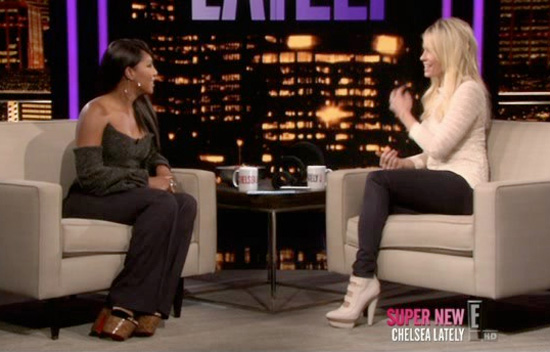 Grammy Award winning R&B diva Toni Braxton paid a quick visit to Chelsea Lately Monday night (Dec 12) where she talked about her WE reality show with her sisters 'Braxton Family Values,' and how she's "playing in the snow" these days … or in other words, she's dating a white man, which she says is very different.
"I'm playing in the snow. It's great, white people smell different. I can't explain it, but they just do. […] He likes to go hiking–black people don't hike. He likes kayaking and stuff like that. But other than that, it's the same."
During the discussion, Toni also revealed how she's working on her "inner-slut," and how she's playing both sides of the field by going out on dates with her ex-husband while she's "playing in the snow."
"I've gone out on a couple dates with my ex husband, but the white guy I'm dating doesn't know," Toni said before Chelsea joked that he knows now. "We [Toni and her 'snowman'] haven't had sex yet. I've been locked down for 10 years. I'm not comfortable with the slut in me yet. I'm working on her though."
Watch the hilarious interview below:
Be the first to receive breaking news alerts and more stories like this by subscribing to our mailing list.