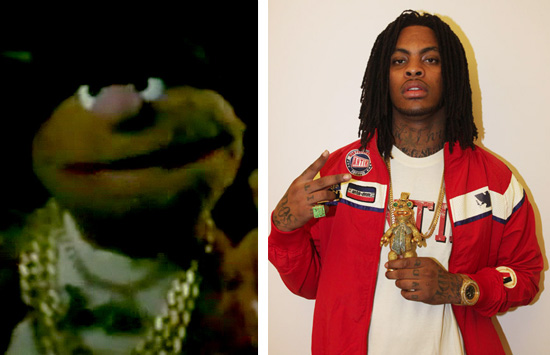 Atlanta rapper Waka Flocka Flame — whose rap name was allegedly inspired by Muppets character Fozzie Bear and his signature phrase "Waka! Waka!" — is rumored to the target of a joke in the new Muppets movie, which hit theaters right after Thanksgiving.
About an hour into the film, bad guy Tex Richman (played by Chris Cooper) introduces his crew of fake, evil Muppets called "The Moopets."

Tex Richman: "The Moopets are a hard cynical act for a hard, cynical world."
Fake Miss Piggy: "Hey Fozzie, I want you to meet a friend of mine!"
Fake Fozzie Bear: "Waka Waka!"

As you can see in the image above, "Waka Waka" is a tougher-looking version of Fozzie Bear with a deep voice and a large stack of gold chains, including a pendant that appears to be a large "WW." Given his style, it's hard not to assume that "Waka Waka" is a parody of a rapper.

[Complex]
While nothing has been confirmed, Hip-Hop heads caught on to the subliminal (alleged) jab, and are now questioning whether or not the filmmakers were actually trying to diss Waka Flocka, or or this is all a really funny coincidence.
What do you think?
Be the first to receive breaking news alerts and more stories like this by subscribing to our mailing list.