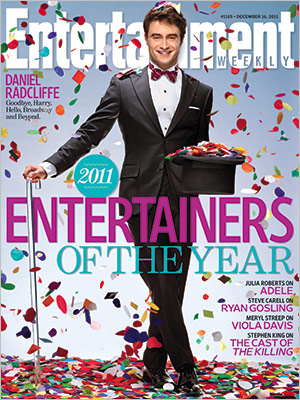 The year 2011 saw the rise … and fall of a lot of celebrities but it takes a real superstar to be named "Entertainer of the Year" for the year 2011 by Entertainment Weekly Magazine.
That star is none other than Harry Potter himself!
Daniel Radcliffe, 22 not only starred in one of the biggest movie franchises of all time, he also took Broadway by storm.
According to EW magazine editior, Jess Cagle the adorably charming Brit deserves the title based on his talent and personality alone:
"Ultimately there was one person who made the most sense." She added that Radcliffe is "the nicest guy with one of the brightest futures in Hollywood. There's nothing he can't do. He's really interested in doing the work. Despite all his wealth and fame as a teenager, he never derailed. He was never busted. Never went outside without his panties on."
Even though Harry Potter was and always will be his most popular role, you won't find any wizards or spells in Daniel's next film, the English thriller, "The Woman in White." Based on the book of the same title, the film chronicles a lawyer's plunge into a world of crime and mystery.
Will audiences line up for the film as they have his previous ones? It's difficult to tell but if the star's theatrical endeavers are any indication, he's here to stay!
Pick up a copy of EW Magazine's "2011 Entertainers of the Year" issue this Friday (Dec 9) and find out who else nabbed a place on the list!
Be the first to receive breaking news alerts and more stories like this by subscribing to our mailing list.