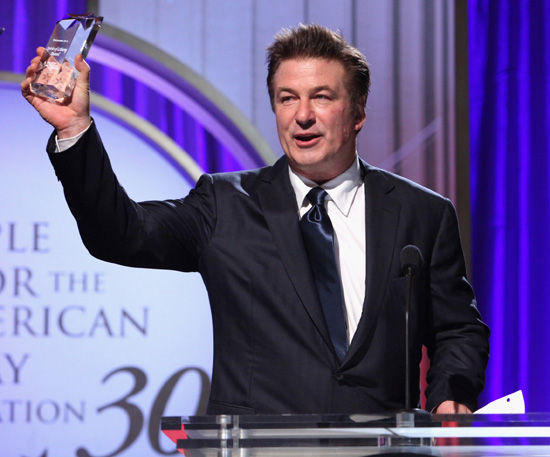 Alec Baldwin was just trying to finish playing "Words with Friends," a popular iPhone game, when an American Airlines flight attendant asked him to turn his cell phone off because the plane was about to take off.
When Baldwin refused to turn his smartphone off, the actor, known for his bad temper, was asked to leave the plane. Afterwards, he wrote on twitter:
"Flight attendant on American reamed me out 4 playing WORDS W FRIENDS while we sat at the gate, not moving. #nowonderamericaairisbankrupt."
When the story broke after the incident Tuesday (Dec 6), Baldwin's reps defended him, saying:
"Alec was asked to leave a flight for playing Words with Friends while parked at the gate. He loves WWF so much that he was willing to leave a plane for it, but he has already boarded another AA flight."
But Steve Weiss, a passenger who was sitting across the aisle from Baldwin, had another side to the story:
"Apparently he said he was playing a game, but he was actually talking on the phone. She [the flight attendant] was very nice. The door was closed they just announced that they were pulling away from the gate. He got up threw his papers on the floor stormed into the bathroom slammed the door closed, beat on the wall and then came back.

"He said 'If you want to kick me off, kick me off.' He was just crazy, he just flipped out, the guy has problems."
A flight crew member, who did not want to give out their name, also talked about their experience with the hotheaded actor, who they say was asked to turn off his phone several times before he was booted from the flight.
"He was violent, abusive and aggressive. He got into the bathroom and started beating on the wall and he pounded his fists on the galley counter. Yelling, screaming, very ugly. It was unsafe to keep him on board that's why he got kicked out.

"He was asked five times [to turn his phone off]. I contacted the captain. We were brought back in and he was let off the plane. Everybody is the same. Everyone has to follow the rules, it doesn't matter who you are."
American Airlines says they were just following protocol by asking Baldwin to turn his mobile device off, adding that the "30 Rock" actor was "extremely rude" to the flight crew, using offensive language and calling people "inappropriate names."
"The passenger ultimately stood up (with the seat belt light still on for departure) and took his phone into the plane's lavatory," AA said in a statement. "He slammed the lavatory door so hard, the cockpit crew heard it and became alarmed, even with the cockpit door closed and locked. They immediately contacted the cabin crew to check on the situation."
Baldwin's spokesman Matthew Hiltzik says that American Airlines singled out Baldwin, and there were other people on the plane blatantly violating the rules as well.
"The plane was already delayed half an hour at the gate when Alec was playing 'Words with Friends,'" Hiltzik told the Associated Press. "Other passengers who tweeted flagrantly violated these rules without any repercussions — proving that they were obviously selectively enforced."
What do you think? Was American Airlines simply following flight regulations when they kicked Alec Baldwin off the plane for not turning his phone off? Or did they single him out because he's a celebrity like his PR person claims?
What are your thoughts?
Be the first to receive breaking news alerts and more stories like this by subscribing to our mailing list.