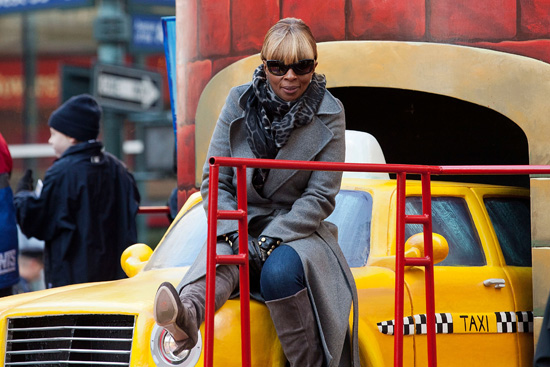 R&B singer Mary J. Blige appeared during the 2011 Macy's Thanksgiving Day Parade in New York City and performed her latest single "25/8" atop the New York Daily News Big Apple Float.
Dressed in a gray Michael Kors coat, gray suede Miu Miu boots with sky-high heels and a 1,000-watt smile, she radiated star power – and the crowd ate it up. "M-J-B! M-J-B!" they chanted, as she waved to fans hanging out of the windows of office buildings overhead.

When the float rounded the corner of W. 34th St., her fans in the grandstand went wild. Further down the street, she sang her song "25/8" from her new album, "My Life 2: The Journey Continues," for a television broadcast.

"This was amazing," Blige said after stepping off the float. "It was so much fun. There was so much energy, and everybody was so very happy." She'd watched the famed Thanksgiving Day parade many times, but Thursday marked the first time she performed in it.

"I felt the love, big-time," Blige said of the warm reception she received from the crowd. "Wow – New York has love for Mary J. Blige." Her Thanksgiving message for New Yorkers: "Every day is Thanksgiving. Be thankful for your life," she said.

Blige said she was buoyed by the affection of fans lining the streets. "How can I describe it? It was epic," she said of her sunny morning spent with the throngs of parade-goers. "It was fun and uplifting."

Wake-up time at her upper West Side home was 5 a.m., so Blige could be on the float, out in the chilly air, by 7 a.m. "It was worth it," she said. "As cold as it was, it didn't even matter because there was so much love. You wanted to give it back, and make sure that people felt just what they were sending to you, make sure you were sending it back to them. 'Cuz they were just sending so much love.

"You wanted to make sure they saw you smiling – and just whatever you could do to brighten their day," she said.

[NYDN]
Be the first to receive breaking news alerts and more stories like this by subscribing to our mailing list.