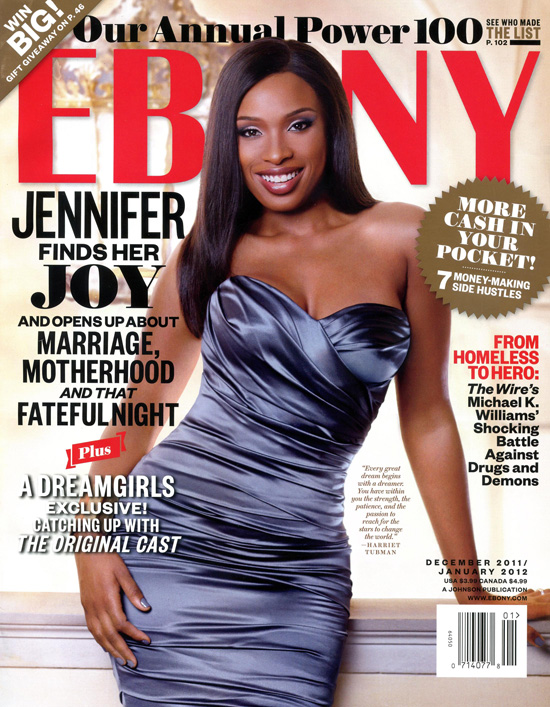 Dressed in an elegant, form-fitting blue gown, Jennifer Hudson shows off her curves as she covers the December 2011/January 2012 issue of Ebony Magazine, where she talks about a number of topics, including marriage, motherhood, her weight loss, and how attending an event with her fiancee David Otunga back in October 2008 basically saved her life.
On a sad day in October 2008, the "Dreamgirls" star's mother, nephew and brother were tragically shot and killed. But what most people don't know is that Hudson was originally supposed to be with them on that very same day, however, her fiancee David Otunga asked her to attend one of his WWE fights in Florida.
So instead of being in Chicago with her family, she flew out to Florida to be with her fiancee, something she recalls saved her life.
"He wanted me to come out to Florida with him instead of going to Chicago," Jennifer explains. "I flew out to see him; that's why I'm still here. That's one of the things that saved my life. Because I could have been home with my mum then. I've never said that before, and I can't believe I just said that now. But I didn't know."
Speaking on her weight loss and the controversy behind Joy Behar from 'The View' saying she was a size zero, Hudson said, "I am going to finally address that size-zero thing that Joy [Behar] said on The View. Hell I wasn't even on the show. I never said I was a size zero. I got crucified by I don't know how many people who cussed me out because they said I'm putting out the wrong message and telling people to be a size zero. I got called every name under the sun and was told, 'You should be ashamed of yourself for talking about being that size.' Well, honey, when I do say I'm that size, then give me that speech. I never said that."
Be the first to receive breaking news alerts and more stories like this by subscribing to our mailing list.