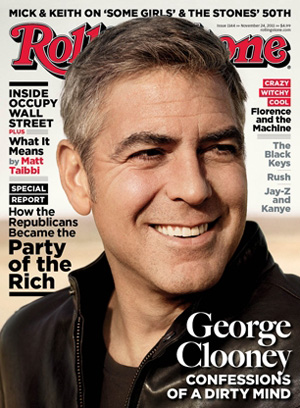 George Clooney shares way too much information about his per-pubescent sex life, which he claims he started "early," in his cover story in the latest issue of Rolling Stone Magazine, where he reveals how he had his first orgasm when he was in the first grade. (Wow!)
"I believe it was while climbing a rope when I was six or seven years old," Clooney tells Rolling Stone magazine. "I mean, nothing came out, but all the other elements were there. I remember getting to the top of the rope, hanging off the rope, and going, "Oh, my God, this feels great!"
The actor said it wouldn't be for another 10 years until he would officially lose his V-Card. "Young, very young, too young," Clooney said of losing his virginity at 16 years old.
Clooney also talked about other things, including how he "punished" himself for masturbating (which he believed to be a "crucial," but sinful, habit), his love of the word "Johnson," how he's fond of farts and much more.
His cover story is called "George Clooney: Confessions of a Dirty Mind" for a reason, we see!
Read the excerpts below!
On punishing himself for masturbating:
To atone for his sins, Clooney would fill "his shoes with gravel" and jump "off the top of his bunk bed." Eventually, Clooney decided that his interpretation of the bible allowed for self-pleasure, "in general, there's nothing about 'Thou shalt not handle thine johnson.'"
On his girlfriend Stacey Keibler:
"I might have a girlfriend, but I'm never going to talk about it. I get one thing to keep to myself."
But he did have this to say about her tweeting about "smiling all day long":
"She can do whatever she wants. I rarely tell anybody what they should be doing with their life."
On how the word "Johnson" always makes him laugh:
"Always. 'He showed her his Johnson and she left.' You can actually say that in mixed company or on late-night TV."
On his fondness of farts, especially when he's hanging out with his friends:
"We think it's one of the funniest things in the history of mankind. Even the idea of a fart makes me laugh. Saying the word 'fart' makes me laugh. I have iFart on my phone. I have remote whoopee cushions. Farts. To me, there's nothing funnier."
On growing up in the shadow of his father, who was a popular local TV newsman in Ohio and Kentucky:
"You have to remember that in the microcosm of Cincinnati, Ohio through northern Kentucky, my father was a big, big star. So that made my sister and me really visible. Everybody knew us, talked about us. If I scored 15 points in a basketball game, the paper would say 'Nick Clooney's son scored 15 points.'"
On struggling with Bell's palsy, a form of facial paralysis, when he was young:
"It was very awkward, being watched like that, everybody looking at us, and then all of a sudden your face goes flat? My dad would always say, 'It's going to go away, you'll be fine, you can handle it.' But it was a tricky thing. So, you develop a better personality and learn how to make jokes about it."
Be the first to receive breaking news alerts and more stories like this by subscribing to our mailing list.