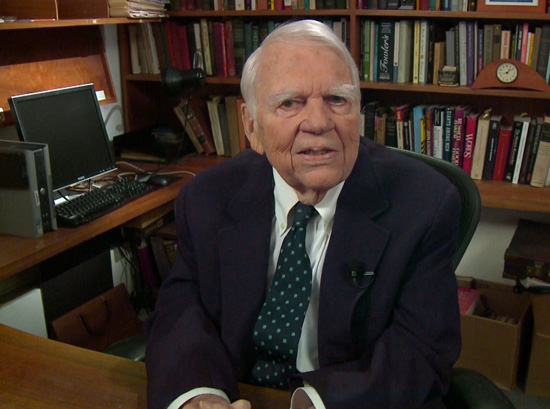 CBS icon Andy Rooney died Friday (Nov 4) after complications following minor surgery, the network said in a statement last week.
Rooney's death comes just a little over one month after the "60 minutes" regular made his final appearance on the show.
Jeff Fager, executive producer of "60 minutes" said, "It's a sad day for everybody here at CBS News … it's hard to imagine not having Andy around. He loved his life and he lived it on his own terms. We will miss him very much."
The NY Times reported:
In late September, CBS announced that Mr. Rooney would be making his last regular weekly appearance on "60 Minutes" on Oct. 2. After that, said Jeff Fager, the chairman of CBS News and the program's executive producer, he would "always have the ability to speak his mind on '60 Minutes' when the urge hits him."

But a little more than three weeks after that appearance, CBS announced that Mr. Rooney had been hospitalized after developing "serious complications" from an unspecified operation.
Andy Rooney was 92 years old.
Be the first to receive breaking news alerts and more stories like this by subscribing to our mailing list.